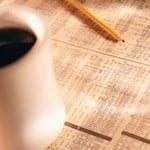 One benefit of hindsight is that it imparts a cheap superiority over the past blunders of others.  We certainly make more mistakes than we'd care to admit.  Why not look down our nose and acquire some lessons learned from the mistakes of others?
A simple record of the collective delusions from the past can be quickly garnered from a price chart over time.  Market peaks appear so obvious, after the fact.  Perhaps with a little examination we can prevent some of our hard earned capital from being returned to dust.
Take bitcoin, for instance.  What were those morons thinking who bought bitcoin at over $17,000 in late-2017?  Why couldn't they tell that a severe price collapse was imminent?  Now, over 16 months later, their bitcoins are about $5,230 – or roughly 69 percent less than what they paid for them.
What's more, if bitcoin doesn't hit $1 million by the end of 2020, John McAfee – the cybersecurity guy – will have to eat his most private part on national television.  Apparently, McAfee consulted his proprietary pricing model before making this outrageous claim.  Maybe he should have back tested it a bit more before going public with his findings. Continue reading →