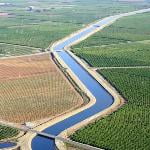 Roughly three years ago, after traversing between Los Angeles and San Francisco via the expansive San Joaquin Valley, we penned the article, Salting the Economy to Death.  At the time, the monetary order was approach peak ZIRP.  We found the absurdity of zero bound interest rates to have similar parallels to the absurdity of hundreds upon hundreds of miles of blooming crop fields within the setting of an arid desert wasteland.
Given today's changing financial conditions, namely the prospect of a sustained period of rising interest rates, we've taken the opportunity to refine our analysis.  What follows is an attempt to bring clarity to disorder.
The natural starting point for the topic at hand is from a place of delusion.  That is, the popular delusion that central planners can stimulate robust economic growth by setting interest rates artificially low.  The general theory is that cheap credit compels individuals and businesses to borrow loads of cash – and consume it.
Over a sample size of five to ten year, say the growth half of the business cycle, central bankers can falsely take credit for engineering a productive economy. Continue reading →