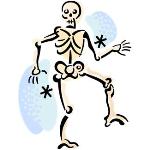 There's something alluring about cure-alls and quick fixes.  Who doesn't want a magic panacea to make every illness or discomfort disappear?  Such a yearning once compelled the best and the brightest minds to believe the impossible for over two thousand years.
For example, from antiquity until the late-19th century, bloodletting was used to treat nearly every disease.  Reputable medical references recommended bloodletting as a cure for acne, asthma, cancer, epilepsy, gout, indigestion, insanity, leprosy, pneumonia, scurvy, tuberculosis, and everything in between.  Bloodletting was even used to treat hemorrhaging.
The practice was simple enough.  A surgeon, often a barber, would open a vein and drain blood from the patient.  Somehow, this was supposed to cure them of disease.
The fundamental idea was that a sick person could be bled to health.  Induced fainting, via bloodletting, was even considered beneficial.  However, the results were often fatal. Continue reading →