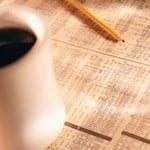 Securities and Exchange Commission Rule 156 requires financial institutions to advise investors to not be idiots.  Hence, the disclosure pages of nearly every financial instrument in the U.S. are embedded with the following admission or variant thereof:
"Past Performance Is Not Indicative of Future Results"
The instruction is futile.  Most investors are idiots, including many of the pros.  What's more, suspiciously absent from all disclosures is "how" to not be an idiot.  Perhaps this is because such guidance would discourage many unwitting investors from getting mixed up with the stock market in the first place.
Without question, if you don't know what you're looking at, the past can be an abysmal predictor of future investment returns.  One year the S&P 500's up 10 percent.  Another year it's up 20 percent.  Then, to the surprise of practically every Wall Street analyst, the S&P 500 crashes 50 percent.
Still, practically everyone projects future returns based on past performance.  For example, your retirement advisor at Edward Jones will be quick to point out that the average annual return of the S&P 500 over the last 60 years is about 8 percent. Continue reading →