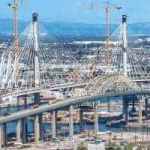 But, Mousie, thou art no thy-lane,
In proving foresight may be vain;
The best-laid schemes o' mice an' men
Gang aft agley,
An' lea'e us nought but grief an' pain,
For promis'd joy!
– Robert Burns, To a Mouse, on Turning Her Up in Her Nest With the Plough (in extract), 1785
A Really Neat Bridge
The grand plans of our local officials in Long Beach have been foiled by the coronavirus bug.  After seven years of construction, at a cost of $1.5 billion, they can't even hold a proper ribbon-cutting.
The special occasion is the grand opening of the new, yet to be named, Gerald Desmond Bridge replacement.  To prevent the spread of COVID-19, a virtual ceremony is planned for the Friday leading into the Labor Day weekend. Continue reading →