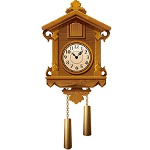 It all seems so systematic, arranged, and orderly.  Almost a direct proof of deism.  Sixty seconds make a minute, 60 minutes make an hour, 24 hours make a day, and one day equals one complete rotation of the planet earth.
Roughly every 30 days the moon orbits the earth – which is one month.  Then every 12 months the earth orbits the sun – which is one year.
So far so good, right?
But here's where the nice and neat order of it all breaks down.  Because if you try to measure one of earth's orbits of the sun in days it's not so divinely tidy.  For it takes 365 days plus an inconvenient 6 hours to fully complete the cycle.
But we don't let these inconvenient 6 hours hamper our perfection.  We're humans, after all.  We innovate, invent, and make the world in our image.  So when the numbers don't jive, we do what must be done.  We fudge them.
We create an off balance account.  We concoct modern monetary theory.  We contrive negative interest rate policy.  And we invent leap year. Continue reading →