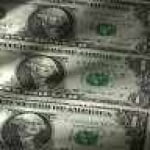 The United States, with untroubled ease, continued its approach towards catastrophe this week.  The Federal Reserve cut the federal funds rate 25 basis points, thus furthering its program of mass money debasement.  Yet, on the surface, all still remained in the superlative.
Stocks smiled down on investors from their perch upon what Irving Fischer once called "a permanently high plateau."  As of market close on Thursday, the Dow Jones Industrial Average held above 27,000, the S&P 500 above 3,000, and the NASDAQ above 8,000.  What's more, 401k accounts, to the delight of working stiffs of all ages, origins, and orientations, are swollen beyond expectations.
Below the surface, however, the overnight funding market was subject to much weeping and gnashing of teeth.  Sometime between Monday night and Tuesday morning the overnight repurchase agreement (repo) rate hit 10 percent.  Short-term liquidity markets essentially broke.
After several technical glitches, the Fed executed its first repo operation in a decade – $53 billion – to keep the interbank funding market flowing. Continue reading →