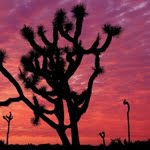 Modern economists are prone to shouting fire in a crowded theater.  The world is full of seeming incongruences.  Economists puzzle over things like population growth and arable acres of farmland.  They project out a linear scenario of increasing divergence, and see a catastrophe in the making.
Yet it is beyond individual human capacity to precisely fit each piece of the puzzle together, particularly where the shapes and numbers of pieces are continuously changing.  That is what markets are for; to make real time corrections and adjustments, which keep things from slipping too far into disorder.
Most of the time markets work remarkably well.  But occasionally, and especially where governments have commandeered a nation's economy or its money, disaster strikes.  That's when it's time to get out of Dodge.
Today we greet you from beyond the outer margins of civilization.  Here in Joshua Tree, in Southern California's High Desert, we're on a quest to unearth a rare and valuable commodity.  One that's in low supply and high demand in our day to day activities.  Perhaps it's in low supply and high demand in yours too. Continue reading →