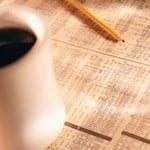 Something remarkable happened yesterday [Thursday].  Stocks didn't go up.  They went down…and they went down a lot.
The S&P 500 dumped 5.89 percent.  But that was nothing.  Gannett Co. crashed 29.5 percent, Noble Corporation plunged 25.51 percent, and Denbury Resources dropped 23.65 percent.
Should you buy the dip?
To properly answer this question we must back up, so as to widen our perspective.  From this outer perch several critical factors in the retail sector come into focus.
To begin, the music has stopped for American retail companies.  Yet retail investors have kept right on dancing.  Pandemic, economic collapse, full societal breakdown.  Nothing's holding them back.
According to Bloomberg, the month of May was the worst month for insolvencies since the Great Recession.  On the month, 27 companies with at least $50 million in liabilities sought bankruptcy protection from creditors.  Notable filings came from J.C. Penney, Neiman Marcus, and J. Crew. Continue reading →