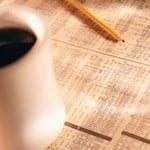 Right now happens to be an attractive time to do something stupid.  What's more, everyone's doing it.  Maybe you are too.
Stock valuations and corporate earnings growth no longer appear to matter.  Why not buy an S&P 500 index fund and let it ride?  Or, better yet, why not buy shares of Nvidia?
The semiconductor company's up more than 170 percent over the last 9-months.  Perhaps it'll double again from here.
Of course, there's nothing like an epic stock market bubble that warms the hearts and softens the minds of men to ideas that would otherwise be impossible.  One idea du jour, for example, is that low interest rates justify high valuations.  Another is that the Fed can permanently inflate stocks using its seemingly unlimited supply of credit.
These ideas, and many others, are nearing their expiration date.  As they turn from ripe to rot, investors that are counting on there always being a greater fool will discover what happens when you overpay for a stream of future cash flows.  In short, future returns stink. Continue reading →