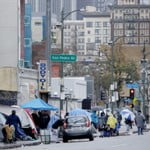 Election season 2022 is in full bloom.  Activists, with clipboards and ballot initiatives, are abundantly flowering outside supermarkets.  They want signatures – your signature – in support of new legislation that would increase funding for various whacky and zany ideas.
In California, and particularly in Los Angeles, initiatives that would fire off more dollars to combat the abundance of shanty favelas blighting urban areas are flourishing.  The rationale is compelling…
As of 2020, there were over 161,000 homeless people in California.  In Los Angeles County alone, the homeless population, as of 2020, was precisely 66,463.  Both those counts are now likely much higher.
Who doesn't want to do something about the profusion of tented bivouacs, barrel fires, medieval disease, human excrement, public drug use, crime, and mental illness that is running rampant across the southland?
Surely something must be done.  But what? Continue reading →