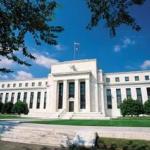 What are the chances of Federal Reserve Chairman Jerome Powell being wrong?  The chances he'll be wrong on the economy's growth prospects, the direction of the federal funds rate, and inflation itself?  Our guess is his chances of being wrong are quite high.
What you see, unfolding before your very eyes, is a great exercise in futility.  To this endeavor, the Federal Reserve has claimed central authority of the command center.  The federal funds rate, the Fed's balance sheet, economic stagnation, massive asset bubbles, and the limits of central planners are the topics of focus.  Where to begin?
Powell got into the central banking business through uncommon means.  To his credit, he's not an economist.  This is a great improvement over former Fed Chair, and intellectual ditherer, Janet Yellen.  Like President Trump, we didn't have the patience for her egghead PhD economist act.
Powell, on the other hand, is a lawyer turned investment banker. Continue reading →