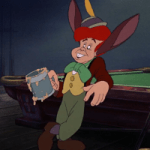 "Right here, boys!  Right here!  Get your cake, pie, dill pickles, and ice cream!  Eat all you can!  Be a glutton!  Stuff yourselves!  It's all free, boys!  It's all free!  Hurry, hurry, hurry, hurry!"
– Pleasure Island voiceover, Walt Disney's Pinocchio (1940)
Welcome To Pleasure Island!
Did you get your stimmy check, yet?  If so, what are you going to do with it?
Are you going to park it in your savings account, pay down debt, and pay off a few bills?  Are you going to buy Chinese 'stonks', cryptocurrencies, and digital NFT art?
What about a new iPhone, fancy dinners, or a plane ticket to Cabo?  How about a new living room rug, a wood pellet grill, or a 75-inch flat screen TV with a sound bar?
The collective answer to these questions is the difference between deflation, asset price inflation, and consumer price inflation.
Billionaire folk hero Warren Buffett says you should use your stimmy check to "pay off credit card debt."  His rationale is sound enough: Continue reading →