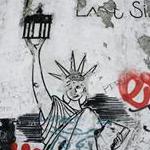 There's great elation flowing from the various economic bureaus down through President Trump.  They bring a message of good news.  If you haven't heard, here in the USA, we live, work, and play in the dazzle and delight of an economy where GDP growth exceeds the unemployment rate.
The last time we drank of elation this cool and sweet was the pre-iPhone stone ages.  Back when George Dubya was President.  And when Lehman Brothers was still one of the titans of Wall Street.
Indeed, getting back to this agreeable place has been a long, hard trudge along the road to happy destiny.  But step by step, day by day, a paradise lost has been returned to Eden.  Thank you, Ben Bernanke.
By all official accounts, things have never been better.  GDP, according to the Bureau of Economic Analysis, is growing at an annual clip of 4.2 percent.  The unemployment rate, as reported by the Bureau of Labor Statistics, sits at just 3.9 percent.  But that's not all…
Pot stocks have become the new bitcoin.  The Dow Jones Industrial Average, after a six month hiatus, is marking new all-time record highs. Continue reading →