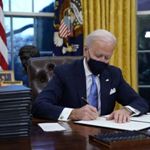 Are you an accidental dependent of Washington?  Many people are.  And many people don't even realize it.
Systems of elaborate folly have been erected with the most impossible of promises.  That wealth can be created without production.  That stimmy checks can be paid without taxes.  That everyone can get free solar power at the expense of their neighbors.
Central to these promises are the central government and central planning authorities.  They promise ease and comfort and, in return, they make you a dependent.  They promise a secure retirement, and free drugs, while running a scheme that's beyond Charles Ponzi's wildest dreams.
Social Security, no doubt, is a tempting idea.  The government confiscates part of your paycheck every two weeks.  Then, in return, and after putting in 45 years, your retirement is subsidized.  You can enjoy your golden years in comfort. Continue reading →