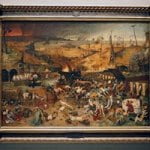 Elizabeth Warren must be a fool.  That, or she thinks the rest of us are fools.
The Senator recently took to CNN to publicly fret over the Federal Reserve's rate hikes.  She's worried they will tip the economy into recession.
What's Warren afraid of?  Her fears have already come true.
The U.S. economy already is in a recession.  GDP data alone shows the economy contracted in both the first and second quarter of 2022.
The technical definition for a recession has long been understood to be two consecutive quarters of declining GDP.  So, by definition, the economy is in a recession.  Everyone knows this, save President Biden and Warren.
Recessions may not be agreeable.  But they are necessary.  In fact, the present recession is precisely what's needed to clean up the consumer price inflation mess that Warren and her colleagues made.  There are consequences for mass money printing.  And they must be reckoned one way or another. Continue reading →