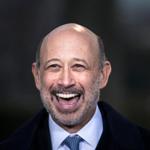 "God gave me my money." – John D. Rockefeller
One and the Same
Today we step away from the economy and markets and endeavor down the path less traveled.  For fun and for free, we wade out into a smelly peat bog.  There we scratch away the surface muck in search of what lies below.
Our unwitting inspiration is none other than long time Goldman Sachs CEO Lloyd Blankfein.  The journey that follows was prompted by word he's preparing to step down as CEO.  One account said this could happen by year's end.  Indeed, times like these are times for honest reflection and celebration.
If you recall, in the fall of 2009, not long after warm rays of sunshine began smiling down upon this bull market, Goldman Sachs' top man, Lloyd Blankfein had an epiphany.  The way he put it to The Times of London was that he's just a banker doing "God's work."  At the time we weren't sure what Blankfein was getting at.  Were you?
Perhaps he was elevating himself, and his firm's business, to the noble and thankless cause of efficiently allocating capital to its highest and best use. Continue reading →