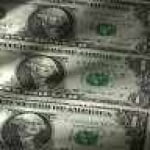 Weeping and gnashing of teeth shall come…
We don't know when, exactly.  But we do know a certain catastrophe's approaching.  In fact, we can see it on the horizon.
Does anyone in Washington give a rip the nation's beyond broke?  Does anyone in Congress care that outright money printing is what's financing their stimulus bills?  Does House Financial Services Committee Chair Maxine Waters think it's all a real hoot?
Surely, someone in the legislature is aghast at federal spending that's gone completely out of control.
Are you aghast?
We are.  But there's nothing we can do to stop it.  Nearly all remnants of fiscal conservatism have been quarantined from federal government.
The majority of the electorate have voted for generous gifts from the public treasury.  They want free education, free food, free phones, free transportation, and free drugs.  They want debt forgiveness.  Most of all, they want free money. Continue reading →