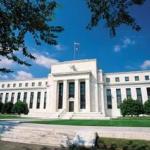 Taking the path of least resistance eventually leads to disastrous places.  Like the Alexandria Hotel in Los Angeles, circa 1990s, these are places that are best to be avoided.  Still, some people, after consistently choosing the easier and softer way, ended up there, going mad, in their SRO unit.
The same holds true for monetary policy.  Terminally intelligent policies, which favor short-term expediency, have the effect of layering society up with an abundance of long-term mistakes.  Intervening in credit markets to suppress interest rates via central bank asset purchase schemes is not without consequences.
What's more, once set in motion these consequences cannot be readily undone.  The booms of plentiful credit must always be followed by the busts of unserviceable debt.  There's no way around it.
Over time the easier and softer way becomes fraught with pain, upset, and turmoil.  Debt problems that could have been addressed with hard work and perseverance become all consuming.  The debt pile becomes too mega. Continue reading →