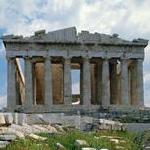 Plebeians generally ignore the tact of their economic central planners.  They care more that their meatloaf is hot and their suds are cold, than about any plans being hatched in the capital city.  Nonetheless, the central planners know an angry mob, with torches and pitchforks, are only a few empty bellies away.  Hence, they must always stay on point.
One of the central aims of central planners is to achieve effective public exhortation.  While they pursue futility, in practice.  They must do so with focus and purpose.
For example, economic reports with impressive tables and charts, including pie graphs, are important to maintaining the requisite public perception.  Central planners know that financial scientism must always be employed as early and often as possible.
Statistics, with per annum projections, particularly those that show increasing exports and decreasing imports, are critical to maintaining the proper narrative.  The USA's embarrassing deficit in the balance of international payments will certainly diminish if it's sketched accordingly in an "official" report…right? Continue reading →