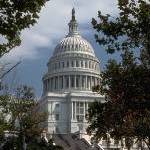 Watch out!  At this very moment, professional economists of all stripes are making plans on your behalf.  They're dreaming and scheming new and innovative ways to spend your money long before you've earned it.
While you're busy at the gristmill, grinding away for clients and customers, claims are being laid upon your life.  Your future earnings are being directed to boondoggles galore.  Yet these claims are in addition to everything Washington's already signed you up for.
At last count of the U.S. National Debt, every American citizen's on the hook for nearly $70,000.  Add U.S. Unfunded Liabilities – which includes Social Security, Medicare Parts A, B, and D, federal debt held by the public, plus federal employee and veteran benefits – and each citizen owes almost $383,000.  And this sum's going to double in the years ahead faster than you can say lickety-split.
These professional economists, enamored by the genius of their graphs, see tomorrow's recessions and know just how to prevent them.  Their master plan for reversing a recession before it strikes amounts to pre-emptive stimulus. Continue reading →