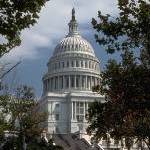 One of the more enticing things about financial markets is not that they're predictable.  Or that they're not predictable.  It's that they're almost predictable…or at least they seem they should be.
The economy, like financial markets, ebb and flow in rhythmic cycles; though, they never quite repeat with perfection.  A shortage of wheat one year should compel production and an abundant harvest the next year.  You can darn near count on it, so long as there's not a late season frost, a mite infestation, or some other act of God that wipes out the crop yield.
Indeed, the economy's dynamic.  It expands.  It contracts.  But it does more than that.  For it's more biotic than abiotic.  It changes.  It evolves.  It continuously reshapes and readjusts to the countless and ever changing inputs, innovations, and interactions of the people and resources that compose it.
The economy also adjusts to government intervention and the conceit of central planners.  An economy with a soft government touch is lively, energetic, and innovative.  Conversely, a heavy handed government calibrates an economy to be slow moving, lethargic, and predictable. Continue reading →