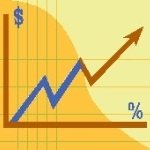 An endearing quality of a late stage bull market is that it expands the universe of what's possible.  Somehow, rising stock prices make the impossible, possible.  They also push the limits of the normal into the paranormal.
Last week, for instance, there was a Bigfoot sighting near Avocado Lake in Fresno County, California.  But it wasn't just one Bigfoot.  According to a local farmer, there was a family of five or six Bigfoot running across his ranch in the middle of the night.  Paranormal expert Jeffery Gonzalez offered the following Bigfoot sighting anecdote:
"One of them, which was extremely tall, had a pig over its shoulder.  And the five scattered and the one with the pig was running so fast it didn't see an irrigation pipe and it tripped, with the pig flying over."
What to make of it?
Bigfoot sightings, no doubt, are pro-growth.  They're bullish for stock prices.  So, too, are warnings from North Korea that nuclear war "may break out at any moment." Continue reading →