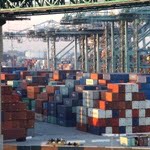 Have you recently bought furniture, auto parts, clothes, electronics, plastic wares, doofers, doodads, or other doohickeys?  Chances are, they were made overseas.
The U.S. monthly trade deficit in February scored a new record.  According to the Commerce Department, the U.S. imported $71.1 billion more goods and services than it exported.  Of this, $30.3 billion was from China alone.
What's more, the month of February only had 28 days.  At a daily gap of $2.54 billion, had it been a full 31-day month, the monthly trade deficit would have been over $78 billion.  What to make of it…
A trade deficit is not inherently bad.  Remember, countries as a whole do not trade with each other.  Individuals and businesses trade with other individuals and businesses between countries.  Presumably they do so because it's advantageous for both sides.
Sound money, of limited supply and market determined interest rates, would provide natural limits to how wide a trade deficit could expand. Continue reading →