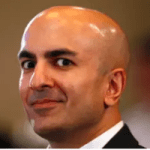 On April 10, 2020, at the apex of mass coronavirus hysteria, Minneapolis Fed President Neel Kashkari appeared on 60 Minutes.  With eyes bugging out of his head, he offered a critical insight.
That the Federal Reserve has "infinite cash" and will do whatever it needs to make sure there is enough cash in the banking system.
What Kashkari didn't mention is that when infinite cash is supplied to the banking system the quality of that cash ultimately reverts to its intrinsic value – zero.  By 2022, the applications of infinite cash had pushed consumer prices to a 40 year high.
While cash is still worth more than zero, it's worth far less than it was just three years ago.  According to the Bureau of Labor Statistics own inflation calculator, the dollar has lost about 20 percent of its purchasing power over this time.  In reality, and as American consumers have experienced, the dollar's loss of purchasing power is far greater.
By the BLS calculator, workers who haven't gotten a 20 percent raise since 2020, are worse off than they were just three years ago.  Certainly, a lot has happened over this time.  But we presume most workers are not making 20 percent more than they were in 2020. Continue reading →