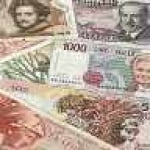 "If you don't know where you're going, any road will get you there," is a quote that's oft misattributed to Lewis Carrol.  The fact that there's ambiguity about who's behind this quote on ambiguity seems fitting.
For our purposes today, the spirit of the quote is what we're after.  We think it may help elucidate the strange and confusing world of fake money in which we all travel.
For example, the monetary policy outlook immediately following last month's FOMC meeting was as clear as a flawless (FL grade) diamond.  The principal message, if you recall, was that inflation was muted and the Fed, after suffering an overt beating from President Trump, would soon be shaving basis points off the federal funds rate.  You could darn near take it to the bank.
Wall Street took the news and acted upon it with conviction.  Investors piled into stocks and bonds without pausing to take a closer look for imperfections.  Why worry when fortune favors the bold? Continue reading →