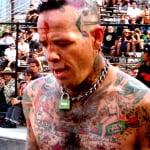 Daylight extends a little further into the evening with each passing day.  Moods ease.  Contentment rises.  These are some of the many delights the northern hemisphere has to offer this time of year.
As summer approaches, and dispositions loosen, something less amiable is happening.  Credit markets are tightening.  The yield on the 10-Year Treasury note has exceeded 3.12 percent.
If yields continue to rise, this one thing will change everything.  To properly understand the significance of rising interest rates some context is in order.  Where to begin?
In 1981, professional skateboarder Duane Peters was busy inventing tricks like the invert revert, the acid drop, and the fakie thruster, in empty Southern California swimming pools.  As part of his creative pursuits, he refined and perfected the art of self-destruction with supreme enthusiasm.  His many broken bones, concussions, and knocked out teeth earned him the moniker, "The Master of Disaster".
But as The Master of Disaster was risking life and limb while pioneering the loop of death, the seeds of a mega-disaster were being planted. Continue reading →