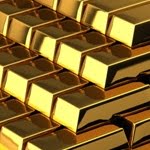 The mighty U.S. dollar spent a good part of the year beating up on other currencies.  From January to mid-October, the dollar rose 13 percent against the euro, 22 percent against the Japanese yen, and 6 percent against emerging market currencies.
And while the dollar rose less against emerging market currencies than against Europe and Japan, the thrashing was particularly brutal.  Many emerging economies – like Sri Lanka, Zambia, Pakistan, Argentina, Turkey, and others – that borrow in dollars, are now on the hook to repay those loans using their local currencies of diminishing relative value.
Perhaps the worst of the dollar's rapid rise is over.  We don't know.  But over the last month the dollar has rolled over from the 20-year high attained on the dollar index.
Specifically, the dollar index is up over 10 percent year-to-date.  Over the last 30-days, however, it has fallen more than 3 percent.
After slipping below 96 cents in September, the euro has risen to nearly $1.04.  The British pound has also bounced from its September all-time low.  The Japanese yen has slightly rebounded from a brutal skid to a 32-year low against the dollar. Continue reading →