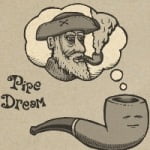 Fiscal policy, as opposed to monetary policy, is more readily understood by the average working stiff.  Income taxes, budget deficits, the national debt.  These are all tangible things people can grasp a hold of, if they care to.
The consequences of zero interest rate policy (ZIRP) or quantitative easing (QE), however, are less obvious to the casual observer.  They may experience the wild booms and busts of central bank caused price distortions, yet never connect the dots back to the Fed.  Some may falsely condemn capitalism.
The industrious wage earner may also find that, despite working harder and harder, their lot in life never improves.  It may even regress.  Still, many won't recognize heavy handed monetary policy as factors for their disappointment.
The recent college graduate making a subsistence wage at a franchise coffee shop, and buried under $50,000 in student loan debt, may be deeply aware that something is radically wrong.  How come the cost of school is at such disparity with the value it provides, they may ask? Continue reading →