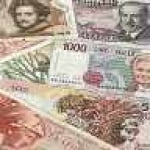 The dawn of war is a time of simple clarity and purpose.  Good guys vs. bad guys.  Cowboys vs. Indians.  Confederates vs. Yankees.  Coppers vs. robbers.  It's a time when lines are drawn, songs are sang, and drums are beaten with gaiety and confidence.
Indeed, calls for 'a jolly little war' are always greeted with merriment and optimism.  This also goes for the dawn of a trade war.  Regardless of whether you're from Scranton or Suzhou, the escalating  Trump vs. Xi standoff all seems so virtuous.  "We're right, they're wrong," and vice versa.
Here in the USA, the perspective is crystal clear.  America's rightful bounty is within reach.  After several Presidents that were light in the loafers, there's finally a leader of the free world with the brass fortitude to reach out and grab it for his fellow countrymen.  And why not?
Several decades of getting spanked by Chinese grunt laborers have American workers longing for reprisal.  This ain't their granddaddy's economy.  They've been repurposed from well-paying manufacturing jobs to low-level service workers.  The relentless progression has been demoralizing.  Given a fair shake, American workers just know they'll kick tail and take names. Continue reading →