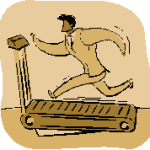 These days everything must be smart.  There are smart cities, smart grids, smart policies, smart TVs, smart cars, smartphones, smart watches, smart shoes, and smart glasses.  There's even something called smart underwear.
Before long everything around us will be so smart we'll no longer have to do one critically important thing.  We'll no longer have to think; smart algorithms will think for us.  What's more, the possibilities for not thinking are seemingly limitless.
Just this week, for instance, in an effort to sound smart, Chicago Fed President Charles Evans indirectly advised President elect Donald Trump that fiscal policy must be "smart."  Presumably, what Evans means by this is that fiscal policy must not be "stoopid."
Fortunately, New York Fed President William Dudley clarified how smart fiscal policy would work.  According to Dudley, smart fiscal policy would include spending programs that are automatically triggered by a recession.  Specifically, Dudley said "extensions of unemployment compensation and cuts in payroll taxes could be triggered by a downturn."
The beauty in all this, you see, is that smart fiscal policy would be automatic.  Congress wouldn't have to think.  They'd be mere automatons.
What Could Possibly Go Wrong?
Of course, Dudley's smart fiscal policy proposal is the sort of thing that sounds really smart in the forgiving world of a Fed policy influencer.  It's as easy as pie, don't you see?
During an economic downturn unemployment checks would be automatically mailed out for a longer duration.  Similarly, less earned income would be automatically confiscated from people's paychecks.  This automatic fiscal stimulus would give the economy the juice it needs to return to growth.  Then, when the economy recovers, the loose fiscal policy would be automatically tapered back.
What could possibly go wrong?
Naturally, it all seems so clever and symmetric.  With some simple parameters, the programming could be outsourced to India and the automatic triggers could be coded into the federal budget for under $5 bucks.  Could policy be simpler?  Still, we have some further questions.
How does Dudley know in advance of a recession what fiscal stimulus would be most effective?  Can he peer into the future and tell us what tomorrow will bring?  Does he know where the transfer payment moneys will go, aside from cheap malt liquor?
What about smart infrastructure or defense spending?  Don't spending programs that funnel the money to infrastructure and defense offer more bang for your buck?
Smart Programs of Capital Destruction
Maybe so.  As opposed to direct transfer payments, at least infrastructure and defense spending produce something.  Unfortunately, in many instances, the something this fiscal spending produces is unwarranted.
The late economist and author Murry N. Rothbard explains:
"Deprived of a free price system and profit and-loss criteria, the government can only blunder along, blindly "investing" without being able to invest properly in the right fields, the right products, or the right places.  A beautiful subway will be built, but no wheels will be available for the trains; a giant dam, but no copper for transmission lines, etc.  These sudden surpluses and shortages, so characteristic of government planning, are the result of massive malinvestment by the government."
Fiscal stimulus via infrastructure and defense spending are what the forthcoming administration says they are after.  We've heard there are plans to spend $1 trillion on infrastructure over the next decade.  The goal of the spending is to accelerate economic growth.
Perhaps it will accelerate activity.  It will crank up the economic treadmill.  But will it get us to a place we want to be?
One can only wish.  For the acceleration of malinvestment through deficit based fiscal spending is ultimately a program of capital destruction.  We wish it weren't so.  We wish fiscal stimulus was the economic panacea.
But unless market forces are allowed to freely direct where capital investments are made, any economic growth will quickly flame out like a cardboard matchstick.  Moreover, what growth the deficit spending provokes, the corresponding inflation will cancel out.
The debt, on the other hand, will be here to stay.  Unless, of course, it's inflated away too…along with the accumulated savings, hopes, beliefs and dreams of three generations.
Sincerely,
MN Gordon
for Economic Prism
Return from Smart Programs of Wealth Destruction to Economic Prism