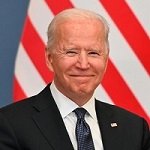 Recession.  Raging consumer price inflation.  A Presidential administration that seeks to confuse and obfuscate what's really going on.  These are the realities facing American workers in the dog days of August circa 2022.
For example, this week the Bureau of Labor Statistics released the Consumer Price Index results for July.  According to the government number crunchers, the CPI decelerated from an annualized rate of 9.1 percent reported for June to an annualized rate of 8.5 percent in July.
Gas prices fell 7.7 percent from one month ago.  But are still up 44 percent over one year ago.  Food prices rose 1.1 percent on the month and are up 10.9 percent over the past 12 months.  Rents also rose 0.7 percent in July.
President Biden, a man who alternates between being a world class liar and a world class moron, took the opportunity to tell an untruth the American people:
"I just want to say a number: zero.  Today, we received news that our economy had 0 percent inflation in the month of July – 0 percent.  Here's what that means: while the price of some things go up – went up last month, the price of other things went down by the same amount.  The result?: Zero inflation last month." Continue reading →