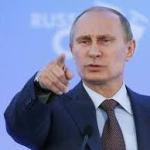 No place is the mix of geopolitics and economics more turbulent than the muddy waters of oil and gas resources.  This week they were muddied up some more.  On Tuesday, the United States and the European Union sprayed Russia with economic sanctions…restricting their access to capital and oil development technologies.
"The measures mark the start of a new phase in the biggest confrontation between Moscow and the West since the Cold War, which worsened dramatically after the downing of Malaysian flight MH17 over rebel-held territory on July 17 by what Western countries say was a Russian-supplied missile," explained Reuters.
Here at the Economic Prism we don't know what will come out of the sanctions.  Will Russia submit?  Will Putin cut off Europe's gas?
We don't know…  But we do know these things rarely go according to plan.  What sounds like a good idea today is often a bad idea tomorrow.
Complex systems, incrementally built up over time, eventually hit a tipping point.  Out of nowhere they go haywire.  Thoughtful consideration and deliberate action can't stop it.  In fact, this often makes things worse.
More Complex than Pizza
For humans can hardly wrap their minds around a simple cause and effect relationship.  "I was eating a lot of Domino's Pizza before my heart attack," commented our neighbor last month, shortly after his sudden cardiac arrest episode.  "Now I eat Papa John's."
See what we mean?
The situation in Ukraine is not nearly as simple as pizza.  Rather, it's infinitely complex.  How are a bunch of blustering politicians and brain dead policy makers supposed to figure it out?
Historical differences.  Rooted animosities.  Oil and natural gas.  Money.  The Black Sea.  Politicians don't stand a chance.
Putin thinks he's playing a game of chess.  Merkel thinks she's playing a hand of poker.  Obama thinks he's an actor pretending to play the President.  The more they try to contain it.  The more they try to diffuse it.  The more quickly things escalate out of control.
For example, what happens if the sanctions don't work?  What if Russia continues arming separatists and increasing troops and weapons along the Ukraine border?  What if they invade eastern Ukraine?
Quite frankly, we'd rather not find out.  Though, with each passing day, the possibility something big will happen becomes more real.
Heading for Disaster
In the meantime, investors don't seem too fearful the sanctions will cripple Russia's economy.  After taking a quick nosedive Tuesday, the day the sanctions were announced, the Market Vectors Russia ETF (NYSE: RSX) bounced back on Wednesday.  Yesterday it sold off along with nearly all stocks…though, RSX's decline was less than the DOW's.
But while the sanctions may not cripple Russia's economy, they may cripple Europe's economy.  Or, perhaps, they could make for a cold winter in Berlin.  All Russia has to do is cut off the flow of gas.  Europe would quickly go dark.  The International Business Times offers the particulars…
"Europe imported some 162 billion cubic meters of gas from Russian gas monopoly Gazprom last year – about one-third of Europe's overall gas consumption – at a cost of about $53 billion.  About half of the gas crosses Ukraine, making supplies even more vulnerable to clashes between Moscow and Kiev.
"A gas cutoff would hit certain countries particularly hard.  Twelve members of the 28-nation European Union rely on Russia for more than half of their gas supplies, while six countries – including Bulgaria and Lithuania – are almost entirely dependent on imports from Gazprom, according to the European Commission, the EU's executive arm."
So the plot thickens…and the world heads for disaster.
Sincerely,
MN Gordon
for Economic Prism
Return from Heading for Disaster to Economic Prism