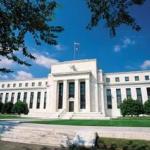 How is it that seemingly intelligent people, of apparent sound mind and rational thought, can stray so far off the beam?  How come there are certain professions that reward their practitioners for their failures?
The central banking and monetary policy vocation rings the bell on both accounts.  Today we offer a brief case study in this regard.
Minneapolis Federal Reserve President Neel Kashkari is a man with strong convictions.  He's what the late Eric Hoffer would've classified as "the true believer."  According to Hoffer:
"It is the true believer's ability to 'shut his eyes and stop his ears' to facts that do not deserve to be either seen or heard which is the source of his unequaled fortitude and constancy.  He cannot be frightened by danger nor disheartened by obstacle nor baffled by contradictions because he denies their existence."
For starters, Kashkari believes the Federal Reserve, an unelected board of appointments, can crunch economic data into pie graphs and bar charts and draw conclusion as to what they should fix the price of credit at.  Moreover, he believes that by fixing credit at the "correct" price, the Fed can somehow "optimize" the economy.
This idea is patently false.  Remember, the economy is comprised of billions of people with ever changing interactions.  Activities and exchanges are always adapting.
What may be the correct price of credit at one time is precisely the wrong price of credit at another.  Only a free market for credit, where rates are agreed to by willing borrowers and lenders, and unobstructed by government decree, can self-correct in real time to properly meet changing demand.
Well Considered Conclusions
But even if it were true that economic data can be used by the Fed to properly fix the price of credit, there's an even greater leap of faith that Kashkari takes with unequaled fortitude.  Specifically, Kashkari whole-heartedly accepts data that's contrived by federal bureaucrats as if it's the gospel truth.  These fabricated abstractions are what Kashkari and his cohorts use as the basis for fixing the price of credit to their liking.
No doubt, the methodology of using economic data to identify apparent aggregate demand insufficiencies and perceived supply gluts is flawed.  Unemployment.  Gross domestic product.  Price inflation.  These data points are all fabricated and fudged by people with their own biases and prejudices.
For each headline number, there are a list of footnotes and qualifiers.  Hedonic price adjustments.  Price deflators.  Seasonal adjustments.  Discouraged worker disappearances.  These subjective adjustments greatly affect the results.  So, what good are they?
On Monday, in an article titled, My Take on Inflation, Kashkari demonstrated his full faith and convictions in government data – and the Fed's ability to use it to pilot the economy.  We won't waste your time with his many rambling explanations.  But in the spirit of observing a lost man navigate through the wilderness using butterflies as reference markers, we offer Kashkari's well considered conclusion:
"If I am correct that the Fed's own actions are an important factor driving surprisingly low inflation and falling inflation expectations, the implication is that our policy should focus on supporting inflation to ensure that we are on track to return to our 2 percent target.  My preference would be not to raise rates again until we actually hit 2 percent core PCE inflation on a 12-month basis, unless we have seen a large drop in the headline unemployment rate signaling that we have used up remaining labor market slack, or a surprise increase in inflation expectations."
Do you follow the logic?  If not, consider it confirmation that your brain hasn't been turned to mush by what passes today as learned economic thought.
Federal Reserve President Kashkari's Masterful Distractions
Indeed, these are the words of the true believer.  There's no consideration that the data's garbage.  Kashkari likely never considered the possibility.
Instead, he goes about his dubious profession with the certainty of a carpenter hanging kitchen cabinets.  But unlike the carpenter, Kashkari doesn't need to measure twice as to cut once.  He operates with unmatched precision.
Kashkari, without question, is a true believer in extreme economic intervention.  If you recall, as federal bailout chief, he functioned as the highly visible hand of the market.  In early-2009, he arrived at work each day with a smile and went about the business of rapidly dispersing Henry Paulson's $700 billion of TARP funds to the government's preferred corporations.  He did so under the pretense that he was destroying capitalism to save it.
Yet it's questionable work experience like this that allows a person to rise to the level of a Federal Reserve President.  Moreover, if Kashkari continues his zealot dedication to his craft, there's no reason he won't ascend to Fed Chairman or Managing Director of the International Monetary Fund.  In fact, Jeffrey Gundlach believes Kashkari will be the next Chairman of the Federal Reserve.
The point is, Kashkari and his cohorts have pushed public and private debt well past their serviceable limits.  They've debased the dollar to less than 5 percent of its former value and propagated bubbles and busts in real estate, stock markets, emerging markets, mining, oil and gas, and just about every other market there is.  At the same time, they've been remarkably successful at enriching private bankers.
Hence, the true believers that keep the charade going via pseudo academic distractions about inflation targets, headline unemployment, labor market slack, supply gluts and other aggregated nonsense, are promoted for running interference.  When it comes to being a tool for the big banks, Kashkari's distractions are masterful.
Sincerely,
MN Gordon
for Economic Prism
Return from Federal Reserve President Kashkari's Masterful Distractions to Economic Prism