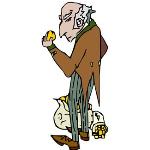 We stepped out on our front stoop Wednesday morning and paused to take it all in.
The sky was at its darkest hour just before dawn.  The air was crisp.  There was a soft coastal fog.  The faint light of several stars that likely burned out millennia ago danced just above the glow of the street lights.
After a brief moment, we locked the door behind us and got into our car.  Springtime southern California mornings are exquisitely pleasant.  The early morning drive to downtown Los Angeles, on the other hand, is exquisitely painful.
Nonetheless, we make the best of it like we make the best of a trip to the dentist – or a visit with our accountant.  If anything, it affords us the opportunity to do something most people rarely do.  In particular, it gives us time to think.
Before we knew it we'd reached our destination.  But not before uncovering half dozen unrectified incongruences.  The sorts of things that are futile to piece together.
One thing that stuck in our craw like a broken chicken bone is the raw deal main street depositors and lenders get from credit unions and commercial banks. Continue reading →