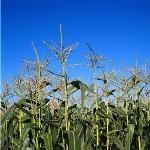 Can you believe it?  Yesterday European Central Bank President Mario Draghi failed to clarify what he meant last week when he promised business leaders in London to do "whatever it takes to preserve the euro."
Traders were looking for concrete steps to saving the euro.  Instead they got muddy stumbles to nowhere.  The DOW dropped 92 points in disappointment…for its fourth consecutive day of losses.
Still, we won't dwell on it anymore today.  For, if you hadn't noticed, there's an epic drought going on…
If you remember back in 2007, following a long dry spell, and severe water rationing, the Georgia state government was out of ideas for quenching the thirst of the parched population of Atlanta.  In a moment of despair they held hands with ministers on the steps of the state Capitol to pray for rain.  Providentially, the heavens complied and soon after it rained.
Yet once again, drought conditions have returned.  This time they've descended on the Midwest and Mississippi Basin.  It's being called the worst drought since 1956.
Last week it rained for the first time since mid-June.  But, unfortunately, the rains quickly passed and the dry conditions returned.  On Monday, Oklahoma Governor Mary Fallin declared a state of emergency for all 77 Oklahoma counties "due to extreme or exceptional drought conditions."
Brown Corn Stalks
Over on the Mississippi River, barges must lighten their loads so they don't bottom out because of dwindling water levels.  Likewise, thousands of fish are dying as lakes and rivers dry up.  To make matters worse, the U.S. Army Corps of Engineers has stopped releasing water from Kansas River reservoirs.  Pretty soon, the rivers will no longer be navigable.
Still, if that weren't bad enough, the drought conditions may wipe out corn and grain crops and cause global food prices to skyrocket…
The combination of hot weather and no rain is resulting in brown corn stalks.  Some corn stalks don't even have grain ears…and those that do are half of normal size.  Plus, conditions are only getting worse.
According to the U.S. Department of Agriculture's crop progress report issued on Monday, "24 percent of the domestic corn crop was in good-to-excellent condition as of Sunday, down from 26 percent the previous week."  Regrettably this happens to be the USDA's lowest corn crop rating since 1988.
"Grain analysts polled by Reuters pointed to a U.S. corn crop of 11.2 billion bushels, the smallest in six years and down 14 percent from USDA's latest forecast of 12.97 billion.  Initial forecasts were for a crop of more than 14 billion bushels."
Obviously, as supplies decline, prices rise…
What You Can Do About the Drought and Rising Food Prices
In July alone, corn prices rose 20 percent.  Since mid-June, corn prices have about doubled.  Anecdotally, this is consistent with our experience.  At the beginning of a July we could buy three ears of corn at our local market for $0.99.  Last weekend, we could only buy two ears of corn for $0.99.  On a per unit basis, that's a 50 percent increase.
Nonetheless, two ears of corn for $0.99 seem like a pretty good deal.  The resulting impact on our food budget will be negligible.  But what about the effects of rising feed prices on meat and dairy?
"Next year," reports CNBC, "the USDA says beef prices are expected to jump 4 percent to 5 percent, making it among the biggest price hikes for food.  Dairy product prices are expected to climb 3.5 percent to 4.5 percent, poultry and egg prices up by 3 percent to 4 percent, and pork prices up by 2.5 percent to 3.5 percent."
From what we gather, today's drought and the prospect of rising food prices could result in the recurrence of the 2008 global food crisis.  If you recall, four years ago, when food prices spiked, there were riots and civil unrest in parts of Africa, the Middle East, and Latin America.  What's more, U.S. ethanol policies – where about 40 percent of America's corn is used for ethanol – limit the amount of corn on world markets…further driving up the price.
"What's difficult is that we see a drought happen today but people really are going to be feeling that six months from now, possibly a year from now," said Marie Brill, a policy analyst at ActionAid.
What you can do about it…
Between May of 2007 and June of 2008 the PowerShares Multi Sector Agricultural ETF (NYSE: DBA) rose 75 percent.  Then, between June of 2010 and March of 2011, it rose 54 percent.
Since June 1 of this year, DBA is up 16 percent.  Drawing from the experience of 2008 and 2011, this current price run-up could last another 7-to-11 months and could extend another 38-to-59 percent.
Remember, past performance is not indicative of future returns.  Even so, it may be a speculation worth considering.
Sincerely,
MN Gordon
for Economic Prism
Return from What You Can Do About the Drought and Rising Food Prices to Economic Prism