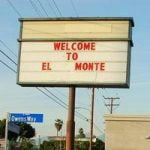 There are places in Southern California where, although the sun always shines, they haven't seen a ray of light for over 50-years.  There's a no man's land of urban blight along Interstate 10, from East Los Angeles through the San Gabriel Valley, where cities you've never heard of and would never go to, are jumbled together like shipping containers on Terminal Island.  El Monte, California, is one of those places.
How El Monte came to be is a story shared with many of its adjoining San Gabriel Valley cities.  Boom, bust, and rapid transformation from an agricultural area to working class artery of a burgeoning megalopolis, vomited out a multitude of enduring mistakes.  Many of them will never be rectified.
When El Monte was incorporated as a municipality in 1912, the prospects for the place must have seemed limitless.  Here was open and fertile land, ideally situated in a low valley between the San Gabriel and Rio Hondo Rivers.  Equally important, it was ideally situated just several miles from the budding City of Los Angeles.
Residents of early El Monte claimed anything could be grown there.  With a little hard work and persistence, money would flow to the rural municipality in exchange for feeding Los Angeles' growing appetite.  Could the gods have ever smiled brighter upon an enchanted hamlet?
At first it appeared this blueprint for prosperity was working.  Denizen field workers experienced the fruits of a lively civic and agricultural district.  Alas, it wouldn't last for long.
The Decline and Fall of El Monte
With the onset of the Great Depression, and the influx of Dust Bowl migrant laborers who'd work for next to nothing, the heyday for El Monte came to a quick end.  Social and labor conflict, culminating with the El Monte Berry Strike of 1933, set the city's decline and fall in stone.  Prosperity has yet to return.
Any redeeming qualities of El Monte's rural character were literally buried around mid-century.  For some reason, no one quite knows for sure, the mania to splatter every square foot of the LA Basin with concrete – including its rivers – took hold of the local spirits.  El Monte was soon enveloped by a sea of urban sprawl.  What was once the outskirts and boonies, rapidly became a forgotten and decaying barrio.
For a brief period in the late 1950s El Monte appeared to be mounting a comeback.  The weekend hosting of teenage rock n' roll concerts by Art Laboe at El Monte Legion Stadium brought El Monte to the center of the universe.  The spirit of the times is immortalized in the metasong Memories of El Monte, written by a teenage Frank Zappa, and recorded by the Penguins.
But as the rock n' roll era quickly passed, El Monte resumed its long-term decline.  On August 13, 1974, the wrecking ball was taken to El Monte Legion Stadium.  To this day, nothing good has since occurred in the area.
By the turn of the 21st century the per capita income for the city was at $10,316 and over a quarter of the population was living below the poverty line.  Roughly 70 percent of the population is Hispanic and 25 percent is Asian.  Many residents are lacking in proper documentation.
These days El Monte's primary purpose in life is to provide ample right-of-way for a roughly 5 mile stretch of Interstate 10.  The city's other notoriety stems from its weekend swap meet and the remarkable deals it offers.  There, between juicy bites of elote – grilled cob corn caked with chili powder – you can buy back the tools that were stolen from your truck earlier in the week at half the price you paid to buy them new.
Perhaps one consequence for residents of cities with high poverty and low citizenship is that they're distracted.  Specifically, they're more concerned with making ends meet and flying under the radar of the local fuzz than staying abreast of the dealings of their local government.  In El Monte, often referred to as Hell Monte by locals, the municipal government took the unique opportunity this scenario afforded them and used it to exploit the hell out of its city residents.
The Great El Monte Public Pension Swindle
The gods were smiling down on then El Monte City Manager Harold O. Johanson on May 9, 2000.  For that was the day El Monte City Council unanimously adopted his supplemental pension plan proposal without public debate.  The outcome of Resolution No. 8017 resulted in a 50 percent boost to civilian retirement checks.  According to the Los Angeles Times:
"Johanson retired three years later, at 58.  Today, he is the top beneficiary of the program he championed, collecting a combined pension of more than $250,000 per year, state and city records show.  That puts him in the top one-hundredth of one percent of all public pension recipients in California."
Johanson, however, isn't unique to El Monte pensioners.  At least eight El Monte public pension recipients collect more than $200,000 per year.  Meet James Mussenden, for instance:
"The retired city manager of El Monte collects more than $216,000 a year, plus cost-of-living increases and fully paid health insurance.
'"It's giving me an opportunity to do a number of things I didn't get to do when I was younger, like travel to Europe, take some things off my bucket list,' Mussenden, 66, said recently.  He even flew to Scotland to play the famed Old Course at St. Andrews, a mecca for golf enthusiasts.
"Mussenden recognizes that few Americans have pensions anymore — least of all the El Monte taxpayers who are funding his retirement.  So while he enjoys his monthly retirement check, he's discreet about it.
'"The guys I play golf with, they get very angry about my pension because they don't have anything like it,' he said."
No doubt, El Monte has pushed the limits of their pensions to levels that are absolutely criminal.  Here again, we refer to the Los Angeles Times for the particulars:
"El Monte has a history of generous employee benefits — including a four-day work week for civil servants, who put in 10 hours a day and have Fridays off.  Liberal pension provisions are another part of that tradition.
"Under state law, police are supposed to contribute 9 percent of their paychecks toward their pensions, and civilian workers 7 percent.  But El Monte covers the employee contribution as well as the employer share, a legacy of collective bargaining agreements dating to the early 1980s.
"On top of that, retired El Monte employees receive annual cost of living increases at the high end of what CalPERS allows: up to 4 percent for police retirees and 5 percent for civilians, depending on inflation.  Most CalPERS pension recipients receive increases of 2 percent annually."
Make of it what you will.  As far as we can tell the recipients of these pensions are swindlers and crooks.  Without their complete repudiation, El Monte will never break free from its long-term economic malaise.
Certainly, the retired parasites will one day kill the host.  Though, for city taxpayers, it will be a slow and painful death – one they shouldn't have to endure.
Indeed, from a strictly moral sense, city taxpayers shouldn't have to honor such downright corrupt promises that government employees made to each other.  The fact that they presently are, embodies everything that's wrong with everything.
Sincerely,
MN Gordon
for Economic Prism
Return from The Great El Monte Public Pension Swindle to Economic Prism