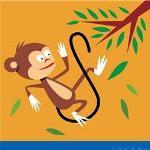 Markets were closed yesterday in observance of Labor Day.  But here at the Economic Prism we labored on.  There's always something to contemplate.  Where to begin?
One place, obviously, is this crazy stock market.  Day after day, week after week, month after month, year after year…the broad barometer of man's hopes and dreams keeps going up.  Apparently, August was the S&P 500's best month since February.
"The S&P 500 gained 3.8 percent for the month," reported MarketWatch, "representing the bench mark's best August performance since 2000.  The S&P also achieved its largest monthly percentage jump since February, when it rose 4.3 percent."
Something remarkable is going on here, for sure.  After bottoming out at 666 on March 6, 2009, the S&P 500 is up over 300 percent.  Simply for buying and holding an index of the stock market's largest 500 companies, investors have tripled their money.
How much longer will this go on?  No one really knows.  That it has gone on this long is bewildering.  Unfortunately, the next five years will not likely be as prosperous as the last five has been for stock market investors.  Stocks must eventually go down to bring things back in line with their long term average.
September Swoon?
In the short term, however, anything can happen.  The next 30 days could be quite a wild ride.  September has notoriously been a bad month for stocks.
"If a stock-market selloff is coming, September might appear to be a likely time for it to start," notes longtime market observer Mark Hulbert.
"Over the past century, September has been by far the worst month on the calendar for the Dow Jones Industrial Average, with an average loss of 0.8 percent.  That contrasts with an average gain of 0.8 percent in the other 11 months."
Nonetheless, prospects of a September swoon may not be so grim.  According to Hulbert's research the dramatic stock market drops that have happened in September occurred when the market was already declining.
"One reason not to make changes to your portfolio just because Labor Day is approaching is that September's reputation derives mainly from years in which the market already was declining — which it isn't this year.  Over the past century, when the Dow was sporting a year-to-date loss through the end of August, it proceeded to lose 2.7 percent on average in September and fell in the month more than two-thirds of the time.
"By contrast, when the Dow had a year-to-date gain through August, it gained an average of 0.3 percent in September, and rose as often as it fell.  This year, the Dow is up 3 percent through Thursday.  Last year, the Dow had a year-to-date gain through August, and it proceeded to rise 2.2 percent in September."
Musical Chairs Investing
Thus, you can see, there's no silver bullet formula for knowing if stocks will rise or fall.  Even during a month that's historically bad for investors there are exceptions.  Likewise, for extended periods, like now, stock valuations can part ways with their historical averages.
At the moment, the stock market is like a satellite that has fallen out of orbit.  It may continue to spin uncontrollably, without consequence, for some time.  But eventually it'll smash through layers of the atmosphere as it falls to a fiery doom.
Nearly the entire market has become a speculation.  Sure, there may be some overlooked diamonds in the rough with shares trading at a discount.  But, by and large, stocks are expensive.
Buy low sell high…is now buy high sell higher.  This game of musical chairs certainly seems like a high risk way to build and grow wealth.  So what's an investor to do?
Back in July 2007, the last time financial markets ran up to record highs, then Citigroup CEO Chuck Prince said, "When the music stops, in terms of liquidity, things will be complicated.  But as long as the music is playing, you've got to get up and dance.  We're still dancing."
Remember how well that worked out for everyone when the music stopped?
Currently the music's still playing.  Dance, if you must.  But better to be a killjoy and sit the next song out.
Sincerely,
MN Gordon
for Economic Prism
Return from Musical Chairs Investing to Economic Prism