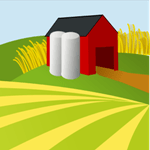 "Money is not the definition of wealth."
– Unknown
America's Oldest Family Farm
John Tuttle arrived in the New World from England in 1632.  He was not empty handed.
He had a land grant from King Charles II.  It was for a small, 20 acre plot of land located between the tidal waters of the Bellamy and Piscataqua rivers, in what became Dover, New Hampshire.  There, the Tuttle family farm expanded and prospered for over three centuries.
Along the way, the Tuttle's withstood many tests.  Revolutionary and civil wars, the industrial revolution, economic depressions, financial panics, relentless competition, plagues, droughts, government encroachment, and countless other assaults to prosperity.
For a business to survive nearly 380 years in the same industry, with the same family owners, is a remarkable achievement.
Started in 1632, Tuttle Farm became America's oldest continuously operated family farm, passed down across 11 generations of Tuttles from father to son.  What was their secret?
The Tuttle family, from its beginning in the New World, chose a productive path.  The second Tuttle, also John, born in 1646, owned a sawmill, had an ownership interest in several sailing vessels, and served for a time as judge of an early colonial court.  All this was in addition to his efforts running the family farm.
Yet the Tuttle's success wasn't without setbacks.  The third generation, also John, was the casualty of an Indian attack at a sawmill on the Upper Falls in 1712.
Still the family continued to prosper.  According to local legend, Tuttle maple syrup was purchased by Abraham Lincoln.
The farm property passed strictly through the male line from father to son with one exception: Joseph Edward Tuttle died when his son was still a baby.  So Joseph's brother, William, took over as caretaker for about 40 years until his death in 1911.  Then Joseph's son, George, took over.
Operational Durability
The original 20-acre parcel granted to John Tuttle was expanded over the years and reached 240 acres at its peak during the 20th century.
During the mid-20th century, Hugh Tuttle made some important changes during his years as owner to provide further durability to the operation.  He instituted a program of forest management for the wooded area on the property, creating a more reliable source of income from designated logging.  And after several years of relative drought he created two large irrigation ponds.
But the march of history continued.  And it wasn't always favorable.
For years, the main customers for Tuttle produce were local grocery stores and restaurants.  With the buildout of the interstate highway system, expanded trucking and improved refrigeration facilities, lettuce from California, apples from Washington, and strawberries from New Jersey were transported and sold in New England at less cost than much locally grown produce.  Supermarket chains were making an early appearance.
Hugh Tuttle responded by constructing the Tuttle's Red Barn.  This quickly became a recognized landmark and a successful retail operation.  Hugh Tuttle died at age 81 in 2002.
The next generation owner was William Penn Tuttle III, assisted by his sister Lucy in the management of the farm and the retail store.  They built a new farm stand to replace the family's old red barn and diversified the product offerings to include gourmet cheeses, baked goods, plants and other products.
But after years of work, they realized they couldn't continue at the same pace.  According to Lucy, they did their best "to lovingly discourage" their children from becoming generation No. 12.
In 2007, Will Tuttle sold a conservation easement, largely funded by the city and the New Hampshire Department of Transportation, to the Strafford Rivers Conservancy (now Southeast Land Trust).  Then, in 2010, Tuttle Farm was sold to the current owner, Tendercrop Farm.  This marked the end of an era; for the first time in nearly 380 years a non-Tuttle took control of the land.
The "oldest" family farm in America, while it lasted, was no small accomplishment.  Moreover, the contribution of 11 generations of this one family is also an instructive submission in durability.
Is Your Wealth Durable?
Durability – in this case, the ability to survive hard times, as the Tuttle Farm demonstrated for over three centuries – is something that should be valued.  Yet, it's not a widespread topic among businesses and investors.
Despite all the talk of sustainability, economic durability, a once important aspect of wealth and prosperity, has become a remnant of the past.
Why?
Perhaps this is because the financial realm has become abstract.
Certainly, economic durability is recognizable when it applies to the tangible – physical – aspects of savings and assets.  For example, the refuge of owning a home or a business, the comfort that comes from having some reserves saved for an emergency, or having a steady stream of income for planning one's daily life.
But step into the financial realm, such as a mutual fund account, and the ability to consider durability recedes.  The fund balance statement is not commonly seen as a fixed and permanent investment.  Rather, it's seen as something transitory, like a checking account.
The words used to describe it, such as correlations, allocation, alpha, beta, volatility, and expected returns, are abstract.  These words are used in place of words that describe what the investments represent (i.e., actual businesses).  And they obscure practically all understanding of what is owned.
In the financial realm, the size of one's savings is supposed to matter most.  The bigger the account statement, the more that is owned, the more secure one is thought to be.
But durability is not merely a matter of size.  And money is not the definition of wealth.
A man with $10 million can lose his riches just as easily as the man with $10,000.  There are countless pathways to ruin.  And they're available to rich and poor alike.
Throughout history, fortunes both great and small have fallen to war, inflation, and government confiscation.  Many fortunes have also been lost by those who were overconfident, overleveraged, envious, or simply living beyond their means.
If you want to avoid this same fate, you must consider the subject of durability.
"Only when the tide goes out do you discover who's been swimming naked," remarked Warren Buffett at the onset of the Great Financial Crisis.
Well, for the first time in over a decade the tide appears to be going out in earnest.  Is your wealth durable?  Are you swimming naked?
Sincerely,
MN Gordon
for Economic Prism
Return from Is Your Wealth Durable? to Economic Prism