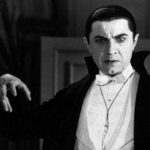 The gray hue of dawn quickly slipped to a bright clear sky as we set out last Saturday morning.  The season's autumn tinge abounded around us as the distant mountain peaks, and their mighty rifts, grew closer.  The nighttime chill stubbornly lingered in the crisp air.
Like Jonathan Harker's journey to Transylvania roughly 120 years ago, we also traveled eastward.  Our route, however, did not take as through Vienna and Budapest.  Nor did it take us upward into the Carpathian Mountains.
Instead, we traversed along the foothills of the San Gabriel Mountains, passing from the Angeles National Forest to the San Bernardino National Forest.  Then we climbed upward to the mile-high Oak Glen village, up above the outermost rim of the Los Angeles Basin.  We'd finally outrun Southern California's seemingly endless sea of concrete.
At this mountain hamlet, we didn't witness one single stoplight or franchise drive-thru.  Billboards, transmission lines, rail corridors, and graffiti art did not blight the countryside.  The built milieu hardly scared the natural landscape.
There was only a windy narrow mountain road and a smattering of apple orchards, which filled the gentle slopes that nestle between the larger and steeper topographic terrain.  Upward we climbed, to where the pine woods canopied across the roadway and the sparse clouds danced to the glint of the sunlight.
Like Harker, our destination had a very specific intent.  We had a date with Dracula.
Amongst the Apple Orchards
No one really knows why Enoch Parrish settled in Oak Glen when he arrived in 1866.  Maybe it was because for just four mules and a wagon he purchased 160 acres of land.  No paper title notes were needed in the transaction; just a gentleman's handshake made it official.
Nonetheless, it first appeared that Parrish had gotten a raw deal.  He spent his first decade rolling around in the dirt, farming spuds.  Potatoes were a cash crop he could quickly bring to market.  Yet their yield wasn't enough to turn much of a profit.
But Parrish had a trick up his sleeve.  He'd shrewdly planted the area's first apple orchard and was counting the days until his fortunes turned around.  After 10 long years, the trees finally matured and began producing an abundance of fruit.  The Glen's first apple orchard opened in 1876.
The zesty fruits were unique to Southern California at the time and were an immediate sensation.  The basin valleys were too warm for apples and were primarily producing citrus and berries.  The cooler mountain climate was perfect for growing apples, and still in market proximity to the booming flatlander population below.
Soon the Wilshire family and the Rivers brothers followed with apple orchards of their own.  These modest apple farms changed the face and fortune of the area to the present.  Los Rios Rancho – The Rivers Ranch – and many of the original apple orchards from their early development over 100 years ago are still producing fruit.
Fresh apple cider, apple butter, and baked apple pies are sold from small family stands and farmhouse restaurants.  Sweet smells of BBQ and bakeries emanate to the air.  Only a small fraction of the 22 million inhabitants of Southern California know this place exists.  Of these, an even smaller fraction would bother to make the trek so far off the beaten path.
Is Fed Chair Nominee Jay Powell, Count Dracula?
It was here, amongst the mountain apple orchards, that we came face to face with the bloodthirsty Count Dracula.  After the stars twinkled high and the temperatures fell low, we locked eyes with the undead archetypal vampire.  At first blink, we thought Dracula was Federal Reserve Chair nominee Jay Powell.
Indeed, it was an honest mistake.  For Powell, like Dracula, is a certified vampire.  He likes low interest rates and easy credit.  In other words, he likes to bleed wage earners, savers, and fixed income retirees.  Moreover, he's coming to get you.
If you didn't know, Powell's been employed by the Federal Reserve Board of Governors since 2012.  His tenure's coincided with some of the most extreme and radical monetary policies in human history.  What's more, Powell endorsed it all.  During his time at the Fed, Powell never cast a dissenting vote.  Not one.
As Fed Chairman, Powell will unequivocally hold to the Greenspan, Bernanke, and Yellen doctrine.  That is, he will suck your blood and siphon your wealth to Washington and Wall Street.  So, you can forgive us for confusing Powell with Dracula, right?
Between bites of Bavarian bread, beef chunks, and crashed potatoes, washed down with swigs of hot apple cider, the Riley's Farm Theatre Company brought Bram Stoker's gothic horror novel Dracula to life.  There, in the candle lit glow of the packing shed, the Transylvanian nobleman Count Dracula, Abraham Van Helsing, Jonathan Harker, Renfield, and the Weird Sisters, proved that this classic tale is truly undead.
Alas, we have the sinking feeling Powell will prove the bloodsucking policies of unrestricted credit creation are undead too.  Perhaps there's never been a better time to pick up a Saint-Gaudens double eagle coin or two.
Sincerely,
MN Gordon
for Economic Prism
Return from Is Fed Chair Nominee Jay Powell, Count Dracula? to Economic Prism