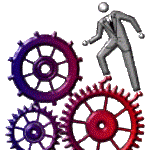 This week brought forward more evidence that we are living in a fabricated world.  The popular storyline presents a world of pure awesomeness.  The common experience, however, grossly falls short.
On Tuesday, for example, the Labor Department reported there were a record 6.6 million job openings in March.  Based on the Labor Department's data, there were enough jobs available – exactly – for the 6.6 million Americans who were actively looking for a job.  What a remarkable feat!
In fact, this is the first time there's been a job opening for every unemployed person since the Labor Department began keeping track of job openings nearly 20 years ago.  Chris Rupkey, chief financial economist at MUFG Union Bank, took one look at the jobs and labor report and exclaimed: "The labor market is literally on fire it is so hot with job openings!"
Now, obviously, not every person is qualified for every job.  A person's skills often don't match up with those required for a certain job.  This may be why the unemployment rate's 3.9 percent, not 0.0 percent.
Still, doesn't the perfect harmony of a precise 1:1 ratio of job openings to unemployed persons strike you as being contrived?  Well, that's because it is.
This statistic, like many of the official numbers, is fake.  It's a fabrication.  And it doesn't stand up to the empirical first-hand experience of broad cross-sections of the population.
Fabrications
Is the labor market really so hot with job openings that it's literally on fire?  The Labor Department's fake numbers say so.  Nonetheless, let's cross check their accuracy.
To clarify, there are various ways to reduce the unemployment rate.  There are hard ways.  And there are easy ways.  Reducing the unemployment rate by increasing the number of people that are working is hard.  It take time, hard work, and discipline.  Moreover, it takes strong economic growth.
But no one likes time, hard work, and discipline.  Instead, everyone likes the opposite.  Everyone likes instant gratification, lethargy, and flexibility – especially government statisticians.
Hence, the quicker, easier, and simpler way to reduce the unemployment rate is to stop counting some of the people that fall in the unemployed category.  Make them, in effect, disappear.  Problem solved!  Here, Erik Sherman, writing for Forbes, explains how the fiction is written:
"The number of jobs increased by 164,000 in April.  But the number of unemployed dropped by 239,000 between March and April.
"That is why the employment-population ratio — the percentage of all people of working age (16 and up, including people who have stopped looking for work) that are employed — dropped from 60.4 percent to 60.3 percent.  More people disappeared from the labor rolls."
This is how statistics are conveniently fudged and fabricated.  Of course, the disappeared unemployed didn't actually vanish from the face of the earth.  They were merely disappeared from the unemployment rate statistics.
Still, fake numbers don't somehow make the economy awesome.  Rather, they make the economy a constructed work of fiction.  The sole purpose of fake number is political expedience.
How to Get Ahead in Today's Economy
Another cross check to the Labor Department's fake numbers is wage growth.  An economy with a low unemployment rate should be an economy with high worker demand.  An economy with high worker demand should be an economy where workers have the opportunity to name their price.
In short, today's economy – the one with an unemployment rate of 3.9 percent – should be an economy with strong wage growth.  But wage growth isn't strong.  In fact, any wage growth there is, has been more than consumed by inflation.  People may get a raise, they may make more money in a nominal sense, but inflation eats up the extra money and then some.
How is it possible that the unemployment rate is 3.9 percent, yet wage growth is softer than a warm pile of mashed potatoes?  Simple.  The unemployment rate is fake.
So what's an industrious fellow to do, to get ahead in today's economy?  Here are several options:
Option 1: Work harder and more hours, skimp and save, and stay out of debt.  Several years of this, however, and there will be no more available hours left in the day to work; though you may have squirreled away a small horde of nuts.
Option 2: Strike out on your own.  With any luck, and after a decade or two of hard work and sacrifice, you'll be an overnight success.
Option 3: Check out of the workforce, and spend your days camped out on a portable picnic chair at the Santa Monica Public Library.  There's free Wi-Fi!
As far as we can tell, it's best to simultaneously do both Option 1 and Option 2.  While it may at times be masochistic, and there's no guarantee of success, if you stay interested, and keep your sense of urgency, you'll always have hope.
And having a little hope, no doubt, will put you ahead of nearly everyone else.
Sincerely,
MN Gordon
for Economic Prism
Return from How to Get Ahead in Today's Economy to Economic Prism