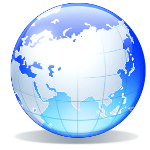 Temperatures in Brisbane, Australia, fell to their lowest level in 103 years.  On June 27, temperatures dropped all the way to 36o F.  The average for this time of year is 53o F.
Here in the United States summer's in full swing.  However, for some areas this week it may not feel like it.  According to meteorologist Megan Glaros, a "polar vortex will be shooting a pocket of cold air…, possibly resulting in record low temperatures all across large portions of the Midwest and upper Great Plains, including Illinois, Indiana, Wisconsin, Iowa, Minnesota, Michigan, and Ohio."
To long time Economic Prism readers this comes as no surprise.  For this lines up perfectly with our 2014 global cooling thesis.  We may not know what we're talking about most of the time.  But occasionally we get something right.  Naturally, we always take our due credit whenever we possibly can.
Yet where the stock market's concerned, it looks like our best guess missed the mark.  We said the stock market would hit a wall before summer.  "We don't expect a 50 percent crash like in 2000-01 and 2008-09," we said.  "But we do expect a 20 percent drop from the current nosebleed levels."
The first day of summer was June 21.  No wall has been hit.  But, nevertheless, we're rocketing towards it at full speed…and continue to monitor the situation on your behalf…
Dark Clouds Above Every Horizon
This week, more shall be revealed.  Second quarter corporate earnings will be released for many companies.  In fact, today, earnings from JP Morgan Chase, Johnson & Johnson, and Intel Corp. will be reported…offering a good cross section of the economy's performance across the financials, health care, and technology sectors.
Nicholas Colas, chief market strategist at ConvergEx, "expects the standard 65 percent to 70 percent of companies to 'beat' earnings estimates this season."  Will that be enough to keep the bull market running for another quarter?  Quite frankly, we don't know.
We thought the bull market would run out of gas long ago.  But that doesn't mean we haven't benefited from it.  We aren't crazy.
We know things rarely happen as we'd expect them to.  We see dark clouds above every horizon.  A looming debt implosion.  A geopolitical conflagration in the Ukraine, Gaza, or the South China Sea.
Anything and everything could happen.  A black swan could show up just when everything couldn't be better.  You never know.  Not everything's as easy to predict as global cooling.
Dirty Investing
That's why diversifying one's investments are paramount to accumulating capital and building wealth.  Stocks could crash tomorrow.  However, they could also run up another 15 percent.
Hoarding cash and hunkering down in the bomb shelter is most likely a big mistake.  Similarly, being all in at this stage in the bull market is also most likely a mistake.  So where are today's opportunities?
We believe they're out there in the dirtiest of places.  Although the big, safe, blue chip, dividend paying stocks have been a great investment over the last several years.  Exploration mining companies have been a disaster.  With a little imagination and a lot of fortitude someone could make a big score betting these trends will reverse.
Take the coal mining ETF, KOL, for instance.  Just three years ago it was trading at $50 per share.  Today it's trading for $18.
Of course, there are many reasons to despise coal as an investment.  There are strict new EPA regulations because global warming is ruining the planet.  There's an abundance of cheap natural gas coming online thanks to technological advancements of hydraulic fracking and horizontal directional drilling.  Coal is dirty.  Mining it is dangerous work.
But these things don't mean coal is going to disappear as a global energy source.  Yet the current price of KOL seems to have made this a forgone conclusion.  In other words, the price of KOL must rise to bring things back into whack.  You can make of this little tidbit what you well.
Sincerely,
MN Gordon
for Economic Prism
Return from Dirty Investing to Economic Prism