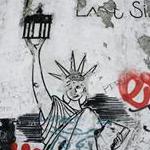 Major U.S. stock market indexes yo-yoed about all week.  On Monday, panic selling from last week turned to panic buying.  Decades of Fed intervention have conditioned stock market investors to step in front of semi-trucks to scoop up nickels.
The Dow Jones Industrial Average (DJIA) jumped 1,290 points.  This marked its biggest-ever single day gain in terms of points.  Can the economic destruction wrought by coronavirus containment really be overcome with what former New York Fed President, Benjamin Strong, once called stock market "coup de whiskey?"  We doubt it.
But we are fairly confident Fed stimulus will have the offensive consequence of widening the gap between sky high asset prices and weak economic fundamentals.  Fed Chairman Powell certainly understands this.  Nonetheless, on Tuesday, he went forward with the dirty deed.
After an early morning teleconference with various G7 poohbahs, Powell cut the federal funds rate by 50 basis points.  This took the Fed's target range to between 1 and 1.25 percent.  As far as we can tell, Powell's dirty deed achieved the exact opposite of its intent.
U.S. stock market indexes didn't go up.  Rather, they went down.  In fact, they went down a lot.  The DJIA, for example, gave back 785 points.  Here's why…
The Fed's rate cut was an act of fear.  Investors smelled it out and circled like a pack of wild hyenas.  Powell may be able to expand the supply of money and credit.  But he can't make up for the economic destruction of a global economy that's grinding to a halt to stem the spread of coronavirus.  Cutting rates 50 basis points won't cut it.
"This Sucker's Going Down"
Bull markets, like myths and legends, die hard in America.  By Wednesday, the bulls were back at it…bidding up share prices like 17th century tulip bulbs.  The DJIA, baited by promises for fiscal stimulus, jumped 1,173 points – back above 27,000.
Could it be that the bull market is not dead after all?  Is Dow 30,000 back on the table?
Not quite.  On Thursday, investors lost their nerve.  The DJIA puked back 969 points.
The fact is, these wild market gyrations are not indicative of a healthy market.  Rather, they're representative of a grisly, ghastly, and grim market.  One that by all rational accounts should be deflating, but for desperate Fed attempts to inflate it.
Remember, Fed Chair Powell is first beholden to the reserve systems member banks.  After that, and when it aligns with the Fed's main objective of perpetual credit creation, Powell will oblige the haranguing of President Trump.
But the real news.  The news stock market investors would be wise to heed.  The yield on the 10-Year Treasury Note slipped below 1 percent for the first time ever.  Treasury investors, no doubt, can read the writing scribbled on the wall by George Dubya in late 2008: "This sucker's going down."
Destruction By Definition
Coronavirus – and the fear of coronavirus – is spreading around the globe.  This week, in fact, it attacked our own hamlet.  The authorities, in the form of the Los Angeles County Department of Public Health, declared a local health emergency on Wednesday.
Then, in the form of a preemptive measure, our immediate government, City of Long Beach, declared a local health emergency.  This declaration, in all seriousness, was made prior to a single confirmed coronavirus case within the city.
But everyone knows there are already hidden carriers roaming about from Pine Avenue to the outer tip of Belmont Veterans Memorial Pier.  Better to be poised than passive.
Regardless, the economic damage has already been done.  From our perch overlooking San Pedro Bay, the main port of entry for Chinese made goods into the USA, facets of the mounting economic catastrophe come into focus.  These elements, even for the most untrained of eyes – and ears – are impossible to miss.  Namely, foghorns are less frequent.  Zero Hedge delivers the grim particulars:
"The Port of Long Beach, the second-largest containerized port in the US, has had two top officials warn in the last several weeks of chilling effects of supply chain disruptions from China. 
"Last week, the Deputy Executive Director of Administration and Operations for the Port of Long Beach Noel Hacegaba warned China's economic paralysis led to the increase of blank sails between China and the US.  He said port activity plunged in January and February, with expected weakness to continue through March.
"Hacegaba said the slowdown at Long Beach is starting to hit the local economy around the port.  He said it could only be a matter of time before it triggers a broader slowdown in the region, and even maybe in the overall US economy."
What we have here, folks, is destruction by definition.  Supply chain disruptions breed consumer good disruptions, which breed declining sales, which breed disappearing cash flow, which breed layoffs, which breed less Ford F-150 sales, which breed shrinking tax receipts, which breed unserviceable public and private debt, which breed mass bankruptcies, which breed game over.
Yep, whether coronavirus spreads out across the LA Basin en masse or not, this sucker's going down…and it will take the stock market down with it.  In the meantime, you can lock in a 30 year fixed rate mortgage refi for under 3.5 percent.  Yee-Haw!
Sincerely,
MN Gordon
for Economic Prism
Return from Destruction By Definition to Economic Prism