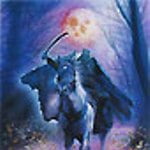 A pleasing land of drowsy head it was,
Of dreams that wave before the half-shut eye;
And of gay castles in the clouds that pass,
Forever flushing round a summer sky.
CASTLE OF INDOLENCE
Apple Country
Oak Glen, California, located just past the outer limits of Southern California's sea of concrete, is a world apart.  The air is clean and crisp at its mile high elevation.  The pace of play is slow and relaxed…not frenetic and mad.
There are no stoplights or franchise drive-throughs.  Billboards and transmission lines do not blight the landscape.  These, and other aesthetic lacerations to the eye, remain with the wide Euclidean Boulevards in the valley below.
The built milieu hardly scars the natural environment.  Just a windy and narrow mountain road extends upward.  Apple orchards fill the gentle slopes that are nestled between the larger and steeper topography.
Many of the original orchards and ranches, from their early development over 100-years ago, are still in operation.  Fresh apple cider and baked apple pies are sold from small family stands and farmhouse restaurants.  Sweet smells of BBQ and bakeries are emanated to the air.
Only a small fraction of the 22 million inhabitants of Southern California know this place exists.  Of these, an even smaller fraction would bother to make the trek so far off the beaten path.  Indeed, they are missing out.
Riley's Farm
We came to Riley's Farm on Saturday for some olde tyme family fun.  We weren't disappointed.  We picked apples with the kids, ate roasted corn, drank sarsaparilla, and watched the sunset beyond a western ridge from an old handcrafted wooden chair.
When the stars appeared we were delighted with a night of feast, theatre, and plenty of barn stomping activities.  All in all it was a rip-roaring good time.  Between a farm spread of pumpkin soup, steak, baked beans, baked potato, corn bread, iceberg salad and apple pie, with an abundance of hot apple cider, the Riley's Farm Theatre Company brought Washington Irving's early American tale, The Legend of Sleepy Hollow, to life.
The stroppy schoolmaster Ichabod Crane, the brawn country meathead Brom Bones, the fair Katrina Van Tassel, and the other lively characters of Tarrytown were all present.  But that wasn't all.  Following the meal and a tractor pulled flatbed hayride, the barn house seating was cleared out.  That's when the night really came to life…
First there were the pumpkin carving and seed spitting contests.  Afterwards, was apple bobbing and a pie eating contest.  Then, late in the night, following the line dancing, the headless horseman even rode by and scared the bejeezus out of Ichabod as he chased him down the farm trail.
What a pleasant respite from the madness of markets and the agony of unprovoked client wire brushings.  We'll be back at it with our regular musings on money and markets later this week.  In the meantime, we'll leave you with some choice excerpts from Washington Irving and The Legend of Sleepy Hollow…
An Autumn Encounter with the Headless Horseman
"The dominant spirit, however, that haunts this enchanted region, and seems to be commander-in-chief of all the powers of the air, is the apparition of a figure on horseback, without a head.  It is said by some to be the ghost of a Hessian trooper, whose head had been carried away by a cannon-ball, in some nameless battle during the Revolutionary War, and who is ever and anon seen by the country folk hurrying along in the gloom of night, as if on the wings of the wind."
"Ichabod, who had no relish for this strange midnight companion, and bethought himself of the adventure of Brom Bones with the Galloping Hessian, now quickened his steed in hopes of leaving him behind.  The stranger, however, quickened his horse to an equal pace.  Ichabod pulled up, and fell into a walk, thinking to lag behind,—the other did the same.  His heart began to sink within him; he endeavored to resume his psalm tune, but his parched tongue clove to the roof of his mouth, and he could not utter a stave."
"There was something in the moody and dogged silence of this pertinacious companion that was mysterious and appalling.  It was soon fearfully accounted for.  On mounting a rising ground, which brought the figure of his fellow-traveller in relief against the sky, gigantic in height, and muffled in a cloak, Ichabod was horror-struck on perceiving that he was headless!—but his horror was still more increased on observing that the head, which should have rested on his shoulders, was carried before him on the pommel of his saddle!"
'"If I can but reach that bridge,' thought Ichabod, 'I am safe.'  Just then he heard the black steed panting and blowing close behind him; he even fancied that he felt his hot breath.  Another convulsive kick in the ribs, and old Gunpowder sprang upon the bridge; he thundered over the resounding planks; he gained the opposite side; and now Ichabod cast a look behind to see if his pursuer should vanish, according to rule, in a flash of fire and brimstone."
"Just then he saw the goblin rising in his stirrups, and in the very act of hurling his head at him.  Ichabod endeavored to dodge the horrible missile, but too late.  It encountered his cranium with a tremendous crash,—he was tumbled headlong into the dust, and Gunpowder, the black steed, and the goblin rider, passed by like a whirlwind."
"The mysterious event caused much speculation at the church on the following Sunday.  Knots of gazers and gossips were collected in the churchyard, at the bridge, and at the spot where the hat and pumpkin had been found.  The stories of Brouwer, of Bones, and a whole budget of others were called to mind; and when they had diligently considered them all, and compared them with the symptoms of the present case, they shook their heads, and came to the conclusion that Ichabod had been carried off by the Galloping Hessian."
Sincerely,
MN Gordon
for Economic Prism
Return from An Autumn Encounter with the Headless Horseman to Economic Prism