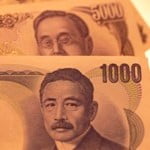 Based on the simple reflection that arithmetic is more than just an abstraction, we offer a modest observation.  The social safety nets of industrialized economies, including the United States, have frayed at the edges.  Soon the safety net's fabric will snap.
This recognition is not an opinion.  Rather, it's a matter of basic arithmetic.  The economy cannot sustain the government obligations that have been piled up upon it over the last 70 years.
In other words, the post-World War II boom is nearly over and the bills are coming due.  What's more, greater and greater amounts of future growth are already claimed by existing debt obligations.  This, in turn, inhibits that growth from making its way into the larger economy, thus limiting future economic growth.
Perhaps this is why mature economies are finding it near impossible to attain 3 percent GDP growth.  In fact, the last time U.S. GDP grew by 3 percent or more for a calendar year was 2005, about 12 years ago.  Unfortunately, it doesn't look like U.S. GDP growth will ramp up any time soon.
Over the last 12 years, GDP growth in the European Union has been equally lethargic.  However, Japan takes the cake.  GDP growth in the Land of the Rising Sun has been stuck in a quagmire for 25 years.
Fighting the Forces of Arithmetic
Aside from a generation of stagnate GDP growth, Japan also has another important distinction.  The country is serving as the canary in the coal mine for what happens to an economy that has an aging population, burdensome debt obligations, and stagnating growth.
Specifically, Japan's disagreeable demographic trend generally precedes the European Union by about 5 years and the United States by roughly 9 years.  Japan's disagreeable debt and growth trend precedes the European Union and the United States by about 15 years, give or take.  The simple arithmetic Japan faces, as reported by the Daily Times, include:
"Japan's $4.8 trillion economy is carrying a $10 trillion-plus debt load amid tepid growth, deflation and shrinking population, one expected to fall by about one-third by 2065.
"Unless Tokyo suddenly learns to grow 8 percent or more for many years to come and a level of fiscal sobriety it hasn't exercised in decades, it can't pay that debt."
Yet the Japanese government and its central bank, the Bank of Japan (BoJ), can't be faulted for lack of effort.  They've been at the cutting edge of executing policies aimed at fighting the forces of arithmetic for several decades.  So far it has been a losing battle, resulting in slow growth and runaway debt.
Yanking the Bank of Japan's Chain
In today's age, where expedient solutions are demanded, BoJ Governor Haruhiko Kuroda is compelled to do something.  But what?
He's already borrowing money into existence and plowing it into the stock market via exchange traded funds (ETFs) at an annual rate of $53 billion.  What this does to improve the real economy is unclear.  But like all types of depravity, the BoJ is finding these asset purchases are much easier to start than to stop.
As of April 2016, the BoJ was a top 10 shareholder in about 90 percent of Nikkei 225 companies.  Moreover, at their present rate of ETF buying, the BoJ will be the top shareholder of 55 Nikkei 225 companies by the end of the year.  What to make of it?
To start, this has had the direct effect of distorting stock market prices.  In addition, the BoJ's stock purchases can be thought of as a form of transfer payments to corporations and the wealthy.  Hence, if corporations and the wealthy are getting direct funding via BoJ cheese, shouldn't the people?
These, no doubt, are the sort of unacceptable questions that come up when the rules of monetary policy are continually adjusted toward the expedient.  Naturally, when a country goes down this slippery road to hell there's always an endless supply of expedient solutions.  So, too, there's always an endless supply of crackpot economists to offer the next policy fix.
For example, Gabriel Stein of Oxford Economics has a novel solution to Japan's perceived demand problem.  Since 2014 he's been advocating that the BoJ pay Japanese citizens to shop:
"Instead of funding the deficit, you could credit bank accounts every year to get people to start spending.  Put money into the hands of people, not banks, and you will end deflation."
Stein proposes BOJ-sponsored cash cards credited at about $8,000 or more per citizen.  These cash cards would expire at the end of each year, so that households would be forced to consume.
Could there be a more perfect economy?  You get free money from the government that you can use to buy real stuff.  Obviously, something doesn't add up.
Come on now Mr. Stein.  You don't think Kuroda just fell off the turnip truck, do you?  Stop yanking his chain.
Sincerely,
MN Gordon
for Economic Prism
Return from Yanking the Bank of Japan's Chain to Economic Prism