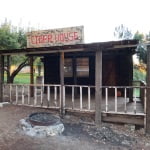 All people, of both good and questionable character, share a singular talent.  They excel at taking something that's tolerable in moderation, and then pushing it to the outer limits of absurdity.  Why live with restraint when you can get radical?
Public and private debt levels, NASDAQ stock valuations, the federal register, face tattoos, canned energy drinks.  You name it.  Overpowered by fear.  Blinded by greed.  People across the spectrum lace up their boots each day and go all in.
Take Greater Los Angeles, for instance.  Sometime in the early 20th century the fever to rapidly develop it caught on with supreme enthusiasm.  A new race towards disfigurement was on.
According to the prevailing logic, if a little concrete was a good thing, splattering every square inch of the basin's surface was even better.  The U.S. Army Corps of Engineers signed on to the cause in earnest.  In search of a mission and purpose, and with little foresight, they extended the compulsive application of concrete to include LA's rivers and creeks.
Several decades later a few innovative fellows discovered these oversized concrete waterways make a near endless canvass for their graffiti art.  So they grabbed their cans of spray paint and went to work with demanding rigor.  Most residents, however, find the blighted city scape to insult and lacerate the eye.  Certainly, they'd like a do-over on the earlier guard's obsession with ordinary Portland cement.
New Puritans
When the 17th century Puritans sought to ban boxing, gambling, dancing, and theatre scenes without one foot on the floor at all times, they were merely extending their initial charter to "purify" the Church of England from its Catholic practices to other perceived social ails.  But, alas, they didn't stop there.
The Puritans of the Massachusetts Bay Colony took their good faith to a place of absurdity.  In 1660, they executed several Quakers via the gallows on Boston Common for being guilty of their own blood.  A statue of Mary Dyer, one of the Boston Martyrs, presently stands at the Massachusetts State House in Boston's Beacon Hill neighborhood to commemorate the past's crossing with absurdity.
Still, the lessons of the past never quite extend to the present.  These days a new crop puritans are pushing the cultural landscape to the outer limits of absurdity.
With devout commitment, and principles founded on refuse, they attempt to legislate away past and present prejudices as if the game of life is to be handicapped like a game of golf.  Somehow, these new puritans think they can socially engineer a more fair and equitable world.  By their will, they determine who the preferred beneficiaries are – and who's guilty of crimes they have never committed.
Predictably, social discourse – including legally recognized non-binary gender options – has sunk deep within a rank pile of composting waste.  Dividing and subdividing people, you see, is serious business for the new puritans.  What's more, it's no laughing matter.  In fact, social parody and humor circa 2018 are unrepentant sins payable with public stoning.
An Onslaught of Stones
Our friend James Riley is smarter than the average bear.  He's built a successful business  opening his family farm – Riley's Farm – in Oak Glen, California, up for fun and entertainment.  Here customers pick their own fruit from his working apple orchards, and enjoy living history education, dinner theatre, and extended, historically-themed overnight stays.
Yet, several months ago, Riley unwittingly became the target of a massive onslaught of stones from the serious set.  Riley, in our experience, is a man of upright character.  To our knowledge, he's never initiated or threatened forcible interference with an individual or individual's property.  But over the summer, during the height of the Stormy Daniels circus, he committed the fatal sin of posting the following tweet:
"What is this country coming to if a girl can't even use her bosoms to smack customers and then sue the president for unwanted sexual advances?  #StormyDaniels."
You be the judge: Does this garner a small chuckle, or not, before being quickly forgotten? Or does this shock your sensitivities into a massive outcry?
For Elizabeth Adams, this, along with several other equally satirical tweets, didn't tickle her funny bone one bit.  Rather, they repulsed her to the extent that she heaved stones from her Facebook account onto Riley, calling his tweets "racist, homophobic, misogynistic, and obnoxious."  Without thought or consideration a mob of new puritans quickly piled on.  Deana Olson, after reading the tweets, was so offended she no longer wants to take her children to Riley's Farm.
Riley, as we'd expect, greeted the hubbub with his own sensible style.  Here's an excerpt from James Riley responds:
"It is both amusing and sad that some people's sensibilities are so delicate that they feel they cannot tolerate opinions that vary even slightly from their own, and further, that they feel the need to attempt to destroy those who differ with them.  H.L. Mencken said 'Puritanism [is] the haunting fear that someone, somewhere, may be happy.'  If the new 'puritans' out there want to waste their time trying to stamp out all who disagree with them, then so be it.  But that seems like a lot of work, and it doesn't sound like the sort of tolerance they claim to be seeking.  We here on Riley's Farm will continue the far more profitable, worthwhile, constructive, and fun pursuits of making people happy."
Three Cheers for James Riley!
Last week we traversed along the foothills of the San Gabriel Mountains, passing from the Angeles National Forest to the San Bernardino National Forest.  Then we climbed upward to the mile-high Oak Glen village, up above the outermost rim of the Los Angeles Basin.  There, we finally outran Southern California's seemingly endless sea of concrete.
At this mountain hamlet, we didn't witness one single stoplight or drive-thru.  Billboards, transmission lines, rail corridors, and graffiti art did not blight the countryside.  The built milieu hardly scared the natural landscape.
There was only a narrow mountain road and a smattering of apple orchards, which filled the gentle slopes that nestle between the larger and steeper topographic terrain.  Upward we climbed, to where the pine woods canopied across the roadway and the sparse clouds danced to the glint of the sunlight.
"There are LOTS of apples on the trees right now," said Riley in our invitation, "and the maples are turning a brilliant red."
We picked apples with the kids, ate roasted corn, drank sarsaparilla, and watched the sun slip beyond the western ridge from an old handcrafted wooden chair.  When the stars arrived we were delighted with a night of feast, theatre, and plenty of barn stomping activities – the sort of fun the new puritans most definitely wouldn't approve of.
Between a farm spread of pumpkin soup, steak, baked beans, baked potato, corn bread, iceberg salad and apple pie, with an abundance of hot apple cider, the Riley's Farm Theatre Company brought Washington Irving's early American tale, The Legend of Sleepy Hollow, to life.
The stroppy schoolmaster Ichabod Crane, the brawn country meathead Brom Bones, the fair Katrina Van Tassel, and the other lively characters of Tarrytown were all present.  But that wasn't all.  Following the meal and a tractor pulled flatbed hayride, the barn house seating was cleared out.  That's when the night really came to life…
First there were the pumpkin carving and seed spitting contests.  Followed by apple bobbing and a pie eating contest.  Then, in the cool of night, after a wild line dance, the headless horseman rode by and scared the bejeezus out of Ichabod as he chased him down the farm trail and into the darkness.
Soon after, in good spirits and with a full stomach, we bid farewell to Riley and departed for the flatlands below.
Sincerely,
MN Gordon
for Economic Prism
Return from Three Cheers for James Riley! to Economic Prism