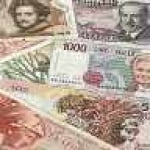 Today we gaze back to the past so we can peer forward to the future.  What does yesterday tell us about today?  What does today tell us about tomorrow?
For example, eleven year ago the global economy was in the euphoric stage of what ended up being an epic property bubble.  It was a magical time in the United States.  The sun smiled brightly on its inhabitants even on the stormiest of days.
Money appeared from the heavens in the form of a fantastical new acronym – MEW.  Mortgage equity withdrawal, courtesy of inflated housing prices, showered the lowly homeowner with an abundance of cash.  Mortgage brokers and real estate agents alike were getting rich.  The zenith of humanity had arrived.
Naturally, a pocket full of free cash must be spent in any and all ways possible.  Some MEW recipients bought additional real estate not to live in, but on spec…with the sole intent of flipping for a profit to the greater fool.  Others covered their countertops with Italian granite.  Vacation cruises were also a popular way to put MEW to good use.
Of course, the days of MEW turned out to be a grand farce.  The wild bubble and bust was the result of a good old fashioned cheap credit induced mania and panic.  Alas, many good people who were caught up on the losing end of MEW are still picking up the pieces of the destruction it wrought.  The country never seemed to fully recover either.
A Milestone from the Days of MEW
We recount the days of MEW as a stark reminder that one must always scratch below the surface.  The simple fact is when something doesn't seem right…it's most likely a sham.  Last month, for instance, a milestone was reached that hadn't been notched since the days of MEW…
"U.S. consumer sentiment rose in January to its highest level in 11 years on better job and wage prospects," reported Reuters on January 30.
"The Thomson Reuters/University of Michigan's final January reading on the overall index on consumer sentiment came in at 98.1, its best showing on a final basis since January 2004 and the latest in a string of increases since August.
'"Consumers judged prospects for the national economy as the best in a decade, with half of all consumers expecting the economic expansion will continue for another five years,' said Richard Curtin, the survey's director."
The consumer sentiment reading for early February pulled back just a bit from the January high.  But it was still at the second highest it has been since January 2007.  Plus, in addition to the outlook of consumers, there are many great things people are expecting from the economy this year.  Things last seen a decade ago…or more.
The Perfect Time to Save for a Rainy Day
"Growth this year is expected to be the strongest since 2005," reported Reuters on Friday, "driven in part by consumer spending, especially with the labor market gathering momentum.  The economy added more than a million jobs in the last three months, a performance last seen in 1997."
This sounds remarkable, indeed.  Strong, consumer led growth at a rate not seen in a decade.  A labor market that's churning out new jobs at a rate not seen in 18 years.  These are things to get excited about.  But could expectations be getting too far ahead?
The economy certainly feels different than the euphoric housing bubble days of 2004.  The general population doesn't believe it is somehow getting rich like it did then.  Despite a six year bull run in stocks, which mainly benefited institutional investors, a widespread mania hasn't taken hold of the average holder of a 401K.
Soundness of mind has yet to give way to common delusion.  Hot stock picks aren't being given out like hotcakes at a Saturday morning diner.  No one expects MEW to give them the highlife. Nonetheless, we're not looking to 2015 to be a breakout year for the economy.  Rather, we see it as a breakdown year…
Ominous dark clouds sit just beyond the horizon.  Currency debasement out of Japan and Europe is escalating.  A strong dollar certainly benefits the U.S. consumer of imported goods.  But, in a paper money world, instability persists…particularly when one currency regime is trying to game an advantage over another by tactics of degradation.
In the absence of a popular mania, caution is still warranted.  Negative consequences of global currency debasement are coming.  Inflows from foreign investors into U.S. stocks are distorting their values.  The longer this continues the greater the ultimate fallout will be.
Now's the perfect time to pay down debt and save for a rainy day.  You'll be glad you did when the next financial storm hits.
Sincerely,
MN Gordon
for Economic Prism
Return from The Perfect Time to Save for a Rainy Day to Economic Prism