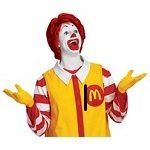 This year's on target to be a banner year for jobs growth.  With a month still left, total payrolls have already increased by 2.65 million.  An upsurge like this hasn't been notched since the twilight of the last millennium.
The Bureau of Labor Statistics published the November employment numbers last Friday.  When they counted up the beans, they concluded 321,000 new jobs were added in November.  Although the unemployment rate held at 5.8 percent, economists and financial pundits celebrated the news with gusto…
"In one line: spectacular and, more to the point, believable," said Ian Shepherdson, chief economist at Pantheon Macroeconomics.  "We've had strong hiring indicators in a number of surveys, and lower jobless claims, so sooner or later, we were going to get a blockbuster number."
Shepherdson, no doubt, is blind.  He's so eager to applaud a "blockbuster" number he forgets to do one very important thing.  Namely, he forgets to open his eyes and look around.
Everyone knows the BLS employment numbers are merely government propaganda.  We look to them each month for entertainment; not edification.  For we never pass up a chance to point and laugh at nonsense emanating out of Washington.  However, there are many reasons they shouldn't be taken seriously…here are a few…
Cube Steak Statistics
For starters, the labor force participation rate sits at 62.8 percent.  This amounts to over 92 million people not participating in the labor force.  You'd have to go back to March 1978 – 36-years ago – to find so many intelligent and able bodied people, on a percentage basis, sitting on their duffs.
According to the number crunchers, there were 156,397,000 labor force participants.  Of these, 147,287,000 had a job and 9,110,000 did not have a job but were actively looking for one.  The roughly 9.1 million unemployed amounts to an unemployment rate of 5.8 percent.
Obviously, a 5.8 percent unemployment rate is a good reading.  Unfortunately, the data points that produced it are distrustfully disfigured.  They've been beat on and hammered out like a butcher tenderizing tough, stingy, round steak meat scraps and pounding it into cube steak.
By comparison, John Williams of Shadow Government Statistics marks the real unemployment rate at 23 percent.  Williams' calculates unemployment using pre-1994 methods, before discouraged workers were disappeared out of the unemployment rate.  What number you believe is up to you…we're simply providing information for your consideration.
Nonetheless, Williams isn't the only one to point out the flaws.  The employment data coming out of the BLS has gotten so defaced that mainstream media outlets can't even overlook it…
Something to Cheer About
"Consider it a brutal lesson in government math," begins CNBC.
"Friday's turbocharged jobs headline came thanks to seasonal adjustments and other wizardry at the Bureau of Labor Statistics, which reported that U.S. job growth hit 321,000 even as the unemployment rate held steady at 5.8 percent.  "However, the household survey, which is an actual head count, presents details that show there's still plenty of work to do.
"A few figures to consider: That big headline number translated into just 4,000 more working Americans.  There were, at the same time, another 115,000 on the unemployment line.  That disparity can be explained through an expanding labor force, which grew 119,000, though the participation rate among that group remained at 62.8 percent, which is just off the year's worst level and around a 36-year low.
"But wait, there's more: The jobs that were created skewed heavily toward lower quality.  Full-time jobs declined by 150,000, while part-time positions increased by 77,000."
Here at the Economic Prism we wait with anticipation.  We'd like there to be a blockbuster number we can hoot and holler and jump up and down over.  But this isn't it.
The popular delusion is that the U.S. economy is moderately improving.  If this is so, it's the kind of improvement that comes with the passing of a kidney stone.  It's painfully slow, agonizingly painful, and something no one would ever want to go through.
All the while, and despite yesterday's pull back, the DOW's rapidly closing in on 18,000.  Now, if you like to cheer fantasy and make-believe, this is something to cheer about.
Sincerely,
MN Gordon
for Economic Prism
Return from Something to Cheer About to Economic Prism