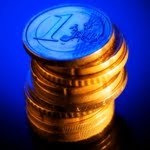 Paper Gold Ain't as Good as the Real Thing
By Doug French, Contributing Editor, Casey Research
For the first time ever, the majority of Americans are scared of their own federal government.  A Pew Research poll found that 53 percent of Americans think the government threatens their personal rights and freedoms.
Americans aren't wild about the government's currency either.  Instead of holding dollars and other financial assets, investors are storing wealth in art, wine, and antique cars.  The Economist reported in November, "This buying binge… is growing distrust of financial assets."
But while the big money is setting art market records and pumping up high-end real estate prices, the distrust-in-government script has not pushed the suspicious into the barbarous relic.  The lowly dollar has soared versus gold since September 2011.
Every central banker on earth has sworn an oath to Keynesian money creation, yet the yellow metal has retraced nearly $700 from its $1,895 high.  The only limits to fiat money creation are the imagination of central bankers and the willingness of commercial bankers to lend.That being the case, the main culprit for gold's lackluster performance over the past two years is something else, Tocqueville Asset Management Portfolio Manager and Senior Managing Director John Hathaway explained in his brilliant report "Let's Get Physical."
Hathaway points out that the wind is clearly in the face of gold production.  It currently costs as much or more to produce an ounce than you can sell it for.  Mining gold is expensive; gone are the days of fishing large nuggets from California or Alaska streams.  Millions of tonnes of ore must be moved and processed for just tiny bits of metal, and few large deposits have been found in recent years.
"Production post-2015 seems set to decline and perhaps sharply," says Hathaway.
Satoshi Nakamoto created a kind of digital gold in 2009 that, too, is limited in supply. No more than 21 million bitcoins will be "mined," and there are currently fewer than 12 million in existence.  Satoshi made the cyber version of gold easy to mine in the early going.  But like the gold mining business, mining bitcoins becomes ever more difficult.  Today, you need a souped-up supercomputer to solve the equations that verify bitcoin transactions—which is the process that creates the cyber currency.
The value of this cyber-dollar alternative has exploded versus the government's currency, rising from less than $25 per bitcoin in May 2011 to nearly $1,000 recently.  One reason is surely its portability.  Business is conducted globally today, in contrast to the ancient world where most everyone lived their lives inside a 25-mile radius.  Thus, carrying bitcoins weightlessly in your phone is preferable to hauling around Krugerrands.
No Paper Bitcoins
But while being the portable new kid on the currency block may account for some of Bitcoin's popularity, it doesn't explain why Bitcoin has soared while gold has declined at the same time.
Hathaway puts his finger on the difference between the price action of the ancient versus the modern.  "The Bitcoin-gold incongruity is explained by the fact that financial engineers have not yet discovered a way to collateralize bitcoins for leveraged trades," he writes.  "There is (as yet) no Bitcoin futures exchange, no Bitcoin derivatives, no Bitcoin hypothecation or rehypothecation."
So, anyone wanting to speculate in Bitcoin has to actually buy some of the very limited supply of the cyber currency, which pushes up its price.
In contrast, the shinier but less-than-cyber currency, gold, has a mature and extensive financial infrastructure that inflates its supply—on paper—exponentially.  The man from Tocqueville quotes gold expert Jeff Christian of the CPM Group who wrote in 2000 that "an ounce of gold is now involved in half a dozen transactions."  And while "the physical volume has not changed, the turnover has multiplied."
The general process begins when a gold producer mines and processes the gold.  Then the refiners sell it to bullion banks, primarily in London.  Some is sold to jewelers and mints.
"The physical gold that remains in London as unallocated bars is the foundation for leveraged paper-gold trades.  This chain of events is perfectly ordinary and in keeping with time-honored custom," explains Hathaway.
He estimates the equivalent of 9,000 metric tons of gold is traded daily, while only 2,800 metric tons is mined annually.
Gold is loaned, leased, hypothecated, and rehypothecated, over and over.  That's the reason, for instance, why it will take so much time for the Germans to repatriate their 700 tonnes of gold currently stored in New York and Paris.  While a couple of planes could haul the entire stash to Germany in no time, only 37 tonnes have been delivered a year after the request.  The 700 tonnes are scheduled to be delivered by 2020.  However, it appears there is not enough free and unencumbered physical gold to meet even that generous schedule.  The Germans have been told they can come look at their gold, they just can't have it yet.
Leveraging Up in London
The City of London provides a loose regulatory environment for the mega-banks to leverage up.  Jon Corzine used London rules to rehypothecate customer deposits for MF Global to make a $6.2 billion Eurozone repo bet.  MF's customer agreements allowed for such a thing.
After MF's collapse, Christopher Elias wrote in Thomson Reuters, "Like Wall Street cocaine, leveraging amplifies the ups and downs of an investment; increasing the returns but also amplifying the costs.  With MF Global's leverage reaching 40 to 1 by the time of its collapse, it didn't need a Eurozone default to trigger its downfall—all it needed was for these amplified costs to outstrip its asset base."
Hathaway's work makes a solid case that the gold market is every bit as leveraged as MF Global, that it's a mountain of paper transactions teetering on a comparatively tiny bit of physical gold.
"Unlike the physical gold market," writes Hathaway, "which is not amenable to absorbing large capital flows, the paper market, through nearly infinite rehypothecation, is ideal for hyperactive trading activity, especially in conjunction with related bets on FX, equity indices, and interest rates."
This hyper-leveraging is reminiscent of America's housing debt boom of the last decade.  Wall Street securitization cleared the way for mortgages to be bought, sold, and transferred electronically.  As long as home prices were rising and homeowners were making payments, everything was copasetic.  However, once buyers quit paying, the scramble to determine which lenders encumbered which homes led to market chaos.  In many states, the backlog of foreclosures still has not cleared.
The failure of a handful of counterparties in the paper-gold market would be many times worse.  In many cases, five to ten or more lenders claim ownership of the same physical gold.  Gold markets would seize up for months, if not years, during bankruptcy proceedings, effectively removing millions of ounces from the market.  It would take the mining industry decades to replace that supply.
Further, Hathaway believes that increased regulation "could lead, among other things, to tighter standards for collateral, rules on rehypothecation, etc.  This could well lead to a scramble for physical."  And if regulators don't tighten up these arrangements, the ETFs, LBMA, and Comex may do it themselves for the sake of customer trust.
What Hathaway calls the "murky pool" of unallocated London gold has supported paper-gold trading way beyond the amount of physical gold available.  This pool is drying up and is setting up the mother of all short squeezes.
In that scenario, people with gold ETFs and other paper claims to gold will be devastated, warns Hathaway.  They'll receive "polite and apologetic letters from intermediaries offering to settle in cash at prices well below the physical market."
It won't be inflation that drives up the gold price but the unwinding of massive amounts of leverage.
Americans are right to fear their government, but they should fear their financial system as well.  Governments have always rendered their paper currencies worthless.  Paper entitling you to gold may give you more comfort than fiat dollars.
However, in a panic, paper gold won't cut it.  You'll want to hold the real thing.
Sincerely,
Doug French
for Economic Prism
[Editor's Note: There's one form of paper gold, though, you should take a closer look at right now: junior mining stocks.  These are the small-cap companies exploring for new gold deposits, and the ones that make great discoveries are historically being richly rewarded… as are their shareholders.  However, even the best junior mining companies—those with top managements, proven world-class gold deposits, and cash in the bank—have been dragged down with the overall gold market and are now on sale at cheaper-than-dirt prices.  Watch eight investment gurus and resource pros tell you how to become an "Upturn Millionaire" taking advantage of this anomaly in the market—click here.
Douglas E. French writes for Casey Research and is the author of three books; Early Speculative Bubbles and Increases in the Supply of Money, The Failure of Common Knowledge, and Walk Away: The Rise and Fall of the Home-Owenrship Myth.  He is the former president of the Ludwig von Mises Institute in Auburn, Alabama.]
Return from Paper Gold Ain't as Good as the Real Thing to Economic Prism