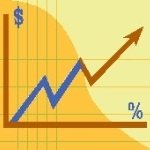 Let's begin with the understanding that something delightful is taking place in the stock market.  The S&P 500's up 22.33 percent year to date.  What's more, the S&P 500 just hit a new nominal high of 1,745.  Can you believe it?
There's something magical about an extended bull market that can't be matched elsewhere.  The blotto of rising stock prices makes a man feel wiser, richer, and younger all at once.  Suddenly, anything – and everything – is possible.
Under the enchantment of a bull market a man finds his bald spot's no longer getting bigger.  Instead, it's getting smaller…along with his waist line.  Conversely, his 401k statement's no longer getting smaller.  It's getting bigger…along with his intelligence.
Upon opening his monthly portfolio statement, he's greeted with the pleasing satisfaction of ballooning wealth.  He fancies his shrewd investing acumen to be equal to Warren Buffett.  Maybe even superior.
Without question, he'll take credit for his good fortune.  For it's his doing, of course.  It couldn't possibly be dumb luck.
Calibrating the Fear and Greed Emotions
Certainly, it has been an enjoyable run.  In fact, the extended price increases have become self-reinforcing.  Day after day of positive feedback has influenced expectations.  There's only one direction for stocks to go…up!
We've thoroughly enjoyed the effect of inflating stock prices.  But before we throw caution to the wind, and go all in, we must consider some restraint.  It is important to calibrate the fear and greed emotions so they don't compel us to make bad decisions.
For example, the 26 year anniversary of the 1987 stock market crash was notched over the weekend.  This was the worst one day crash in US history.  If you don't recall it, here's a brief review of the carnage…
On October 19, 1987, the DOW fell 22.6 percent.  An equivalent drop today would crash the DOW 3,400 points in just one trading session.  That would take the DOW down from about 15,400 to 12,000.
Based on the experience of the 1987 crash, this offered a fantastic buying opportunity.  Stocks recovered in just two years.  Those who had the guts to buy after the crash made out quite well.  Naturally, many investors panicked out of stocks after the crash, which was precisely the time they should have been buying.
What to make of it…
People seem to always want stocks when they are hitting new highs…like now.  Yet, the right time to buy stocks is not when they are at record highs, but when they are at bear market lows.  For whatever reason, during market lows, like March 2009 or following the 1987 crash, most people don't buy stocks.  They sell.
How to Enjoy the Magic of Rising Stock Prices
There's a sweet smelling fragrance emitted as stocks reach new highs that causes a person's head to go soft with visions of easy riches.  Similarly, there's sulfurous stench released following a market crash that causes people to panic out of their positions at the very moment they should be loading up.  Why is this?
Strangely, investing psychology goes contrary to other purchases.  While people can quickly discern a bargain price for a pair of jeans or a flat screen TV, with stocks, they have the uncanny ability to buy high and sell low.  The fear and greed emotions seem to always get the best of them.
Stocks have already gone up a lot.  However, there are several factors that lead us to believe this could continue a while longer.  One, the Fed isn't going to taper anytime soon, if ever.  Two, as bond yields continue to rise, even the most conservative of investors will be forced to transfer more and more of their investment portfolio to stocks.
As an aside, third quarter earnings season commenced yesterday.  McDonald's reported earnings were underwhelming…they beat expectations by $0.01.  But Netflix and Hasbro got Wall Street's attention, closing up 6.4 percent and 5.3 percent respectively.
Regardless, no one's cared about earnings all year.  Nor have they cared about jobs and the economy.  Why should they start now?
At this point in the stock market run-up, price, as it relates to earnings, is of little concern.  What matters, is that price is going up.  Moreover, what matters is that the Fed is backing it.
In closing, even though the economy's stuck in first gear, the stock market should continue its uptrend.  We don't know how long it will last and how aggressive it will turn when it finally cracks.  Thus, holding some cash, both to sleep well at night and to buy if stocks violently drop, is a practical way to enjoy the magic of rising stock prices.
Sincerely,
MN Gordon
for Economic Prism
Return from How to Enjoy the Magic of Rising Stock Prices to Economic Prism