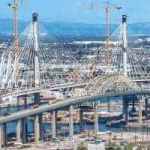 But, Mousie, thou art no thy-lane,
In proving foresight may be vain;
The best-laid schemes o' mice an' men
Gang aft agley,
An' lea'e us nought but grief an' pain,
For promis'd joy!
– Robert Burns, To a Mouse, on Turning Her Up in Her Nest With the Plough (in extract), 1785
A Really Neat Bridge
The grand plans of our local officials in Long Beach have been foiled by the coronavirus bug.  After seven years of construction, at a cost of $1.5 billion, they can't even hold a proper ribbon-cutting.
The special occasion is the grand opening of the new, yet to be named, Gerald Desmond Bridge replacement.  To prevent the spread of COVID-19, a virtual ceremony is planned for the Friday leading into the Labor Day weekend.
Virtual ceremonies, like professional baseball games with recorded fan noises, are Dumb with a capital D.  But, perhaps, this is the fitting grand opening of an edifice that was planned and constructed for a world that may never arrive.
Certainly, the new bridge structure, which has the highest vertical clearance of any cable-stayed bridge in the U.S., is a remarkable engineering achievement.  The cable-stayed design also has a signature aesthetic.  We've watched it go up over the years; it really is extraordinary.
The two towers rise up to roughly 515 feet above mean sea level, and include 40 cables per tower.  The bridge's linear extent is approximately 8,800 feet.  The cable-stayed span alone is 2,000 feet.
Construction included 18 million pounds of structural steel, 75 million pounds of rebar, and 300,000 cubic yards of concrete.  The new bridge will improve connection between downtown Long Beach with Terminal Island, and through the Port of Long Beach / Port of Los Angeles mega San Pedro Bay ports complex.
The old Gerald Desmond Bridge that it's replacing was constructed in 1968.  According to Duane Kenagy, capital programs executive at the Port of Long Beach, the old bridge had become "functionally obsolete."
Maybe so.  But the new bridge, while really neat, may be functionally unnecessary.  Here's why…
Global Trade Contractions
To meet the relentless expansion of international trade over the last 20 years, berths have been widened, and channels have been deepened to accommodate the definitive absurdity of perpetual credit creation: The CMA CGM Benjamin Franklin.  This mega container ship, if you're unfamiliar with it, is over 20 stories tall, the width of a 12 lane freeway, and longer than four football fields.  It has enough cargo space to hold 90 million pairs of 'Made In China' shoes.
The purpose of the bridge replacement is to provide greater clearance into the Port's Inner Harbor for mega container ships.  The general philosophy of the bridge's proponents is that global trade expands in perpetuity.  Hence, more and more space will be needed for more and more next generation container ships.  There's even 50-years of data to support this belief.  But that doesn't mean what is will always be.
From a practical standpoint, global trade has expanded without interruption for so long that only senior citizens – if they still have their wits about them – can remember anything different.  Yet, global trade hasn't always expanded.  In fact, there have been long episodes of contractions in global trade that have played out over long secular trends for thousands of years.
The Silk Road, for example, was established by the Han Dynasty of China in 130 BC, and allowed for continuous trade between east and west for nearly 1,600 years.  In addition to economic trade, the Silk Road was also a conduit for culture and knowledge among its network of civilizations.
However, this trade route eventually came to an end.  When the Byzantine Empire fell to the Turks in 1453 AD, the Ottoman Empire closed the Silk Road and cut all ties with the west.  Geopolitical trends turned inward towards isolation.
There are also more recent examples of contractions in global trade…
Best Laid Schemes
Those willing to look back to the first half of the 20th century will discover something that goes counter to their life experience.  Global trade, as a proportion of total economic activity, went down between the onset of World War I and the 1960s.  That's a near 50 year run of declining global trade.
Could another half-century contraction of global trade happen again?  At the moment, it's very well possible that one has already commenced.
Just last month, for instance, cargo volume at the Port of Long Beach declined by double digits.  Container Management offers the grim particulars:
"The Port of Long Beach had an 11.1 percent year-on-year drop in container volumes for June due to a lower demand for goods and cancelled sailings related to the COVID-19 pandemic.
"Total volume for June 2020 was 602,180 twenty-foot equivalent units (TEUs) with imports declining by 9.3 percent to 300,714 TEUs and exports down 12.2 percent to 117,538.
"Decreased consumer spending and ongoing health concerns led to economic uncertainty for the first half of 2020 which, in turn, resulted in a 6.9 percent less containers handled compared to 2019 for a total of 3.4 million TEUs.
"Combined, Long Beach and Los Angeles (the San Pedro Bay ports complex) had 41 cancelled sailings in the first half of 2019.  This year, it was 104."
The impetus for the trade contraction is both a politically motivated trade war, and economic seizure from government lockdown orders.  The long-term ramifications of these developments will persist for decades.  But for now, the local public officials are counting on a strong recovery and future growth.  Long Beach Harbor Commission President Bonnie Lowenthal is bullish on future trade:
"The economic recovery is going to take some time, but we are optimistic for the future of the port and our partnerships with labor and the entire goods movement industry."
Lowenthal's optimism is largely misplaced.  The best-laid schemes of mice and men often go askew, and leave us nothing but grief and pain.  In this case, they also leave us with a signature bridge structure; a lasting monument to an extended era of global trade that has come and gone.
Sincerely,
MN Gordon
for Economic Prism
Return from Best Laid Schemes to Economic Prism