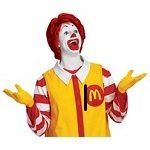 "Every man is a consumer, and ought to be a producer," observed 19th century philosopher Ralph Waldo Emerson.  "He is by constitution expensive, and needs to be rich."
These days Emerson's critical insight has been tipped up on end.  Producers and consumers alike are getting squeezed in a giant vise in the year 2015.  Rising debts and declining wages are twisting the screws down and bulging out the eyeballs of the regular working stiff.
Indeed, Emerson didn't have the unique opportunity to watch seven consecutive years of zero interest rate policy crimp and crumple the economy and financial system into an overburdened contrivance.  If he had, he would have been appalled by the outcome.  Has the disconnect between the stock market and the economy ever been greater?
Emerson lived in a day and age of honest money…devoid of central bankers.  Printing money to buy bonds and stocks would have been met with a grimace.  It would've been considered fraud and deception.
These days it's considered enlightened central banking policy.  Inflation targets, aggregate demand, unemployment…these are some of the areas central bankers work to influence.  Despite all the well-meaning intentions they may have, the efforts of central bankers in the 21st century have been ineffectual.
Unfavorable Economic Readings
"The Employment Cost Index, the broadest measure of labor costs, edged up 0.2 percent in the second quarter, the Labor Department said," and reported Reuters on Friday.  "That was the smallest gain since the series started in the second quarter of 1982 and followed a 0.7 percent rise in the first quarter."
In short, it's an employer's markets.  Workers are stuck running on the treadmill.  As a whole, their hard work and effort is being rewarded with the lowest compensation increase on record, since the Bureau of Labor Statistics began measuring employment costs 33 years ago.
Obviously, the consumer is feeling the pinch and the data supports this.  "Michigan's index of consumer sentiment fell to 93.1 in July from 96.1 the previous month," reported U.S. News & World Report.  "Richard Curtin, chief economist for the survey, blamed the drop on the 'disappointing pace of economic growth.'"
The disappointing pace of economic growth Curtin is referring to is the annual rate of 2.3 percent gross domestic product growth from April to June.  This sluggish reading was released by the Commerce Department last Thursday.  The release also included a revised GDP of 0.6 for quarter one.
Make of it what you will.  A GDP of 2.3 is certainly better than one of 0.6.  But it isn't much of a boom or the type of growth that can overcome massive debts.  Nor is it the type of growth that puts a few extra bucks in the worker' pockets.
The Twisted Tale of Consumers and Producers
Don't forget, the world economy is more connected than ever.  Lethargic economic activity on one side of the planet is felt on the other side.  You can count on it…
Thus, on cue, comes word that factory growth in China stalled out in July.  Reuters called the slowdown "unexpected."  But we think it is a matter of mere cause and effect.
U.S. wages are flat.  GDP is anemic.  Consumer sentiment is downs.  Hence, U.S. consumers are less likely to buy the vast array of cheap, Made in China doodads filling the market shelves.  That factories in China are flagging shouldn't be "unexpected," should it?
Unfortunately, to keep factories humming…producing things people don't need, so people can buy them with money they don't have…China is eyeing more stimulus.
'"It [stalling factory growth] warrants more concrete policy measures to stabilize the real economy.  Perhaps the funds used to prop up the share market could be used to support the real economy,' ANZ economists Li-Gang Liu and Louis Lam said in a research note.  ANZ maintained its forecast that the central bank will cut interest rates by another 25 basis points (bps) this quarter and reduce banks' reserve requirements by 50 bps by year-end."
Without a doubt, consumers in the U.S. and producers in China are twisting and turning along.
Sincerely,
MN Gordon
for Economic Prism
Return from The Twisted Tale of Consumers and Producers to Economic Prism