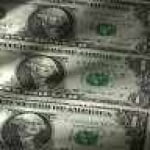 The United States' economy is flying high.  In fact, when compared to Japan and Europe, the state of the union is strong and prosperous.  What's more, it's only getting better.
The unemployment rate continues its slow soft slide downward.  It was at just 5.8 percent the last we checked.  Meanwhile, consumer prices are rising at a benign 1.7 percent.  At the same time, annual GDP is increasing at a healthy 3.5 percent clip.  On top of that, the stock market continues to make everyone rich.
There are occasional moments of idyllic perfection where one must pinch themselves to know if they are really happening.  These are the green flash instances…like when Teddy Kennedy up and died.  Out of nowhere the stars align and the good spirits reign.
Sometimes these moments are compelled by careful planning and exacting fortitude.  Other times their harmonic convergence is the result of sheer dumb luck.  We don't make too much of the how or why…we'll take what we can get.
At the end of the day it really doesn't matter what the triggers were.  What really matters is that the moments came to pass, that we were alive and present to bear witness.  Conversely, some moments are less than idyllic.  Such moments are what we're interested in today…and how we can learn from their oft disruptive aftermath.
The Easter Island Example
Taxing natural occurrences can be itemized like important historical dates.  Hurricane Katrina.  The Loma Prieta earthquake.  President Obama's unremitting look of constipation.  The list goes on and on…
Yet what instruction does each occurrence offer and where can it take us?  And what about when humans muck around and truly make a mess of things?  For example, what really happened on Easter Island?
The common story is that islanders squandered a forested island by cutting down all the trees and carving massive statues.  Once denuded of trees the islands environment was severely compromised.  Agricultural productivity waned.
In short, the island's resources were exploited to the point where they could no longer support the population.  Decline quickly followed.  Those who remained lived marginal subsistence lives.  Certainly, there are other explanations for what happened on Easter Island.  No one really knows for sure.  But the common story is instructive, nonetheless.
Of course, nothing quite takes the cake like an extraordinary popular delusion that involves money.  Moreover, nothing quite encapsulates the popular delusions of mankind like financial markets.  Manias and panics…these are the moments when the extreme imbecilities of the human animal are on full display.
Here Comes the Flood
"Foreign purchases of long-term U.S. securities in September were the largest in more than four years," reported Reuters, "with inflows in all major asset classes, data from the U.S. Treasury Department showed on Tuesday.
"Net purchases of long-term U.S. assets including stocks and bonds totaled $164.3 billion in September, after a $52.1 billion inflow in August.  September's inflows were the biggest since March 2010.  However, including short-dated assets such as bills, foreigners sold $55.6 billion in U.S. assets, the first outflow since June.
"Overseas investors bought U.S. Treasuries for a second straight month.  September inflows into U.S. Treasuries of $48.1 billion were the highest since February, even though benchmark U.S. 10-year note yields, which move inversely to price, ended the month higher at 2.5 percent.
"The dollar in September, on the other hand, was on a run, notching its third monthly gain."
Perhaps it is nothing to make much of anything over.  Perhaps a massive flood of foreign investment into U.S. assets is a fitting occurrence.  But it tickles our funny bone, even so.  Could the flood of money into U.S. assets be the equivalent of cutting down the forest to build massive statues?
We can't help but wonder…something feels amiss.
Sincerely,
MN Gordon
for Economic Prism
Return from Here Comes the Flood to Economic Prism